Well build Angel Egypt Factory, promote industrial development of Egypt
May 22nd, 2018
By C.yp
At 2018 annual meeting, President Yu Xuefeng made a speech about the work focus of Angel Yeast Company and showed great expectation to Angel's further development. He mainly talked about four key points, including setting out again fully, upholding the core competitiveness, improvement continuously and imposing the disciplines.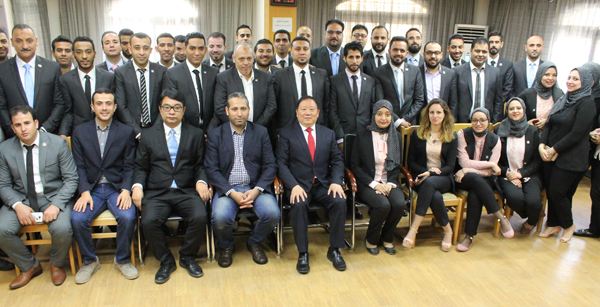 Following up are the four key points talked by President during the speech:
" Firstly, it is setting out again fully. The idea "Setting out again after 30 years" was proposed in 2015. We strive to break through the enterprise life cycle, and to achieve sustainable development. Then Angel Yeast step into the best development period historically in 2016 and 2017. Then "setting out again" showed a strong vitality.
It will be setting out again for all aspects on our business operation in coming years. We should refine the work to each business units and determine higher goals and stronger measures. It's necessary to completely eliminate pride, complacency, stagnation thinking, and start up from zero again.
Secondly, it is upholding the core competitiveness. Upholding is Angel's important idea and keyword for many years. If there was no insistence, there would be no Angel's culture and strategic implementation. Many years of practice have proved that Angel's strategy, culture, organization, and mechanism are suitable for the development of the company and are the core competitiveness for the healthy development of Angel.
Angel's vision is: "Being an international, specialized biotechnology leading company, and building a century"; Angel's mission is: "development of biotechnology, innovation healthy life"; Angel core value concept is "staff-oriented, user-sourced, technical & quality for life". Some managers questioned the main business of yeast and organization mechanism. I insisted those contents are the fundamental and essential base for Angel survival and development. It is going to stick to the commitment without any doubts.
We put forward the "market-centered" approach and build the profit center of the business division. It is clear that "profit center is the front line, production and research are the second line, and the other is the third line". These things must be upheld and implemented well, integrating into all work and measures.
Thirdly, it is improvement continuously. It is necessary to improve all thoughts, ideas and organizational behaviors that unsuitable for Angel's strategy and culture.
At present, we must focus on improving research, development and technological innovation. We must make technological innovation stronger and make technological progress more solid. Our scale must be based on having leading technology, not just marketing.
It is need to improve production management and technology. We have 10 yeast factories already. There are huge potentials to improve on planning, management and production, and to play the more advantages of multi-plants. The "five-small activities" shall be insisted on. It is need to improve and enhance continuously, which really mobilizing the enthusiasm and creativity of the grassroots staff.
We also need to focus on improving the efficiency of marketing management. The most basic work is the management on users, channels, teamwork and capabilities.
It is necessary to improve the functional management and achieve management goals with quality service. Nevertheless, it's clear enough that each department shall be responsible for their own functions of running properly. This should be implemented seriously.
Angel's international operation capabilities is weakness. It is very necessary to sum up experience and lessons on global operation, and strive to improve and enhance the capabilities on overseas manufacturing, marketing, updated technology R&D and multi-country talent training.
Fourthly, it is imposing the disciplines. All Angel team shall pay more attention to discipline than ever before, and impose discipline in every aspects. The bigger the enterprise is, the higher the discipline requirement imposed on.
I hope everyone put our efforts into the work together, take the new goals, and make new achievements in 2018."
Angel Yeast Company is a high-tech listed company specializing in yeast and biotech. Product business covers Yeast and Baking, Yeast Extract-Savoury, Nutrition & Health and Biotechnology fields. It is one of the world's leading companies in the yeast industry. Angel has 12 holding subsidiaries and provides products and services for more than 150 countries and regions.
Address: 168 Chengdong Avenue, Yichang, Hubei 443003, P. R.China
Tel: +86-717-6369520, 6369558
email: aie@angelyeast.com
---
---