Dill weed & cheese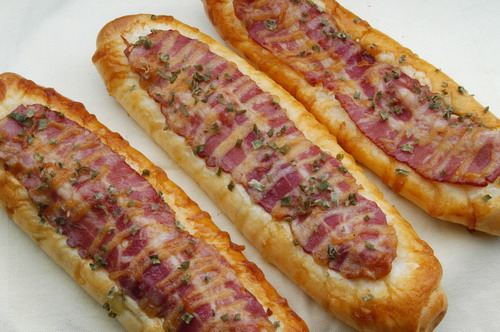 Ingredients % kg.g
Bread Flour 100 779
Dill Weed 1 8
Sugar 8 62
Angel Sugar-tolerance Instant Dry Yeast 2 16
Salt 1.6 12
Whole Egg 10 78
Cheese Slices 5 39
Onion Granula 20 156
Water 35 273
Bakerdrem Margarine 10 78
Total 192.6 1500
Golden Jam:
Liquid Ghee 100 278
Sugar Powder 17 47
Salt 2 6
Water 40 111
Corn Starch 4 11
Whole Egg 17 47
Total 180 500
Method
- Dough making: stir all the materials till the wheat gluten is fully developed
- Dough temperature: 26-28℃
- Basic fermenting: temperature of 28℃, humidity of 75-80%, time of 30 minutes
- Shape the dough: divide the dough into 100g per portion and roll it into round shape, rest the dough for 15 minutes, then mould it into 22cm long strip stick shape.
- After the fermenting is finished, bake the bread, brush the whole egg, lay bacon slices, scatter shredded cheese, and squeeze golden jam on the bread.
- Baking temperature: 190℃/180℃
- Baking time: 14 minutes
Golden jam:
1.Take some water to dissolve starch, boil the rest water with sugar and salt, then add the starch into pasty;
2.After the pasty is cooled, add egg and then beat them with a netty beater, while beating, add liquid vitya;
3. After beating is finished, add right amount of white vinegar till it has required acidity.