Apple Pastry Pocket
Apple Pastry Pocket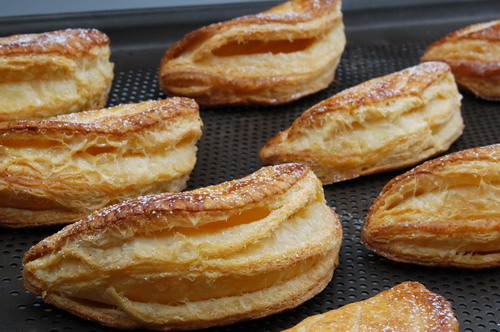 Ingredients % kg.g
Bread Flour 100 1000
Sugar 3 30
Whole Egg 7 70
White Vinegar 2 20
Water 50 500
Bakerdream Margarine 10 100
Total 172 1720
Crispy Margarine 800
Method
- Mixing time: at low speed for 5minutes and at high speed for 5 minutes
- Dough temperature: 22-24℃
- Refrigerating and resting time: 60 minutes
- Weight of divided dough: according to need wrap with the Bakerdream crispy oil in a French way in the dough that is refrigerated and rested, make three folds twice, four folds twice, and finally roll the dough till 0.3-0.4cm thick. Then cut the dough into round shape with 8cm-diameter, and roll the dough out into oval shape to stuff 30g Bakerdream apple granule stuffing in the middle and then double over the dough, caulk the seal with a fork, make patterns on the surface with a toothpick, then brush egg liquid.
- Baking temperature: 210℃/ 200℃
- Baking time: 20-25 minutes
- After the bread is cooled, sift dampproof sugar powder on the surface.