Angel Russia wins the Golden Dragon Award of Sino-Russian Regional Cooperation
December 25, 2018
By C.yp
On December 19, at the Sino-Russian cooperation and exchange summary meeting held in Moscow, the president of the Russian Federation of Asian Industrial Entrepreneurs, Viktor Markovic, presented Qin Jianhua (general manager of Angel Russia Company) with "the Golden Dragon Award of Sino-Russian Regional Cooperation." This event was initiated by the Business Administration of Chinese Embassy in Russia, the China-Russia Friendship, Peace and Development Committee, the China Association of Chinese Businesses, and the Russian Federation of Asian Industrial Entrepreneurs.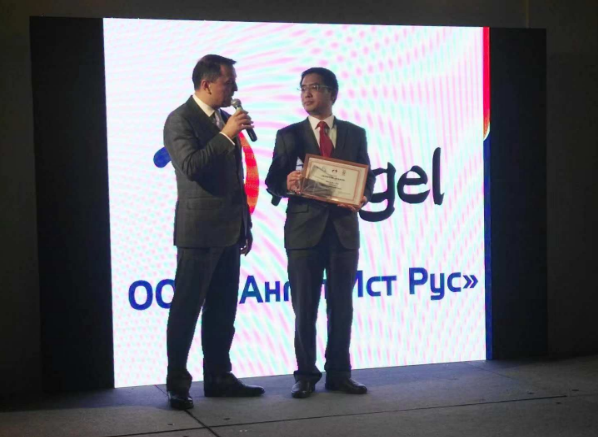 This year, the Golden Dragon Award of Sino-Russian Regional Cooperation has set up awards for industries, finance, engineering, IT, trade, etc. Angel Russia Company is the only company that received this award in an industrial project. According to reports, there are many Chinese-funded enterprises in Russia such as Penza Cement, Fuyao Glass, Haier Electric, Great Wall Motor, etc. Among these companies, Angel Yeast is the one with the fastest project construction and the best operating efficiency.
Chairman of the Russian President's Entrepreneur Entity Protection and Chairman of the Russian-Chinese Friendship, Peace and Development Committee, Mr. Boris Titov, said that the cooperation between China and Russia needs more companies like Angel Yeast who can improve local employment, increase government taxation, promote personnel exchanges, activate the consumer market...
At the beginning of this year, China and Russia decided to upgrade the local cooperation between the two countries to the national level, and further promote the strengthening of mutually beneficial exchanges between Chinese provinces, autonomous regions, municipalities directly under the Central Government and Russian federal entities. Data shows that by the end of October 2017, the two sides have established 140 pairs of sister cities and provinces, dozens of pairs of economic and trade relations with the provinces, established the middle and upper reaches of the Yangtze River in China and the Federal District Regional Cooperation Council on the Volga River in Russia, Northeast China And the Intergovernmental Cooperation Committee of the Russian Far East and Baikal Region.
Angel Yeast Company is a high-tech listed company specializing in yeast and biotech. Product business covers Yeast and Baking, Yeast Extract-Savoury, Nutrition & Health and Biotechnology fields. It is one of the world's leading companies in the yeast industry. Angel has 12 holding subsidiaries and provides products and services for more than 150 countries and regions.
Address: 168 Chengdong Avenue, Yichang, Hubei 443003, P. R.China
Tel: +86-717-6369520, 6369558
email: aie@angelyeast.com
Related tags:
---
---