Angel Yeast spreads reach globally
March 20, 2019
By C.yp
Company looking to boost its product exports from facilities in Egypt, Russia
Angel Yeast Co Ltd, one of the country's largest yeast makers and a biotech solution provider, is banking on its manufacturing facilities in Egypt and Russia to further expand its footprint in the overseas markets.
Yao Juan, research and development director of Angel Yeast, said Angel's second factory in Egypt is expected to be operational from next month. The newly built factory was launched to boost yeast extract product exports to the European markets at lower costs. The factory will have a production capacity of 35,000 metric tons of yeast and yeast extract products and estimated sales of more than 550 million yuan ($81.88 million).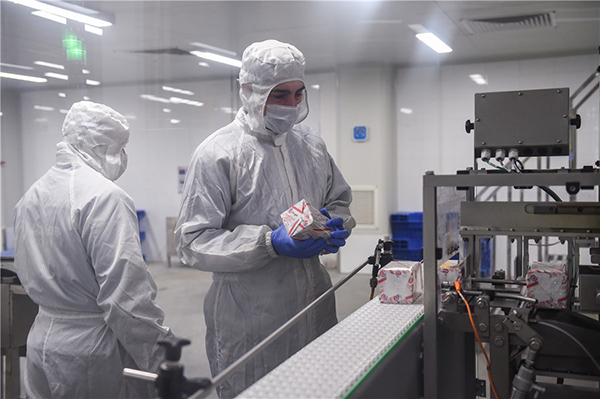 (Angel Yeast employees work at a production facility in Lipetsk Oblast in Russia)
Yeast extract products - derived from edible yeast - are a major source of export revenue for the company, Yao said. Angel's yeast extract products are seen as tailor-made solutions for companies to create versatile and savory food recipes.
The company set up its first dry yeast facility in Egypt in 2010 about 100 kilometers from the capital Cairo. About 70 percent of the yeast products made in the first unit have been exported to the Middle East and African markets.
Last month, Angel Yeast's Russian production line commenced production, with an investment of 679 million yuan and an annual manufacturing capacity of 20,000 tons of yeast.
Founded in 1986, Angel Yeast is the third-largest leading yeast company in the world with 10 international advanced production bases in China, Egypt and Russia.
Exporting to more than 160 countries and regions, the Yichang, Hubei province-based Angel Yeast, whose product business covers yeast and baking, yeast extracts, nutrition and health and biotechnology fields, has more than 40 percent of its overall revenue generated from exports, Yao said. The company's annual revenue reached over $1 billion by the end of 2018.
About 90 percent of the exported products are self-owned brands, while the balance are contract manufactured products, said Yao.
"The biggest market for our yeast products is in Asia and Africa as well as South America, and some Chinese supermarkets in the United States," she said. Investing about 4 to 5 percent of their revenue in innovation, Yao said the priority is to make food taste better and healthier.
"We have called for actions among industrial associations and research units to bring upgrades in the sector, such as how to reduce salt in food without compromising the taste," she said.
According to its earnings report for the third quarter in 2018, Angel's revenue grew 17.1 percent to 4.89 billion yuan year-on-year, while net profit rose 10.17 percent to 673 million yuan on an annual basis.
According to Angel, global yeast production capacity stood at about 1.5 million tons in 2018, with more than 50 percent manufactured in Europe and the United States. Angel's yeast products account for about 12 percent of the global market.
(This article is reprinted from CHINADAILY.com.cn)
Angel Yeast Company is a high-tech listed company specializing in yeast and biotech. Product business covers Yeast and Baking, Yeast Extract-Savoury, Nutrition & Health and Biotechnology fields. It is one of the world's leading companies in the yeast industry. Angel has 12 holding subsidiaries and provides products and services for more than 150 countries and regions.
Address: 168 Chengdong Avenue, Yichang, Hubei 443003, P. R.China
Tel: +86-717-6369520, 6369558
email: aie@angelyeast.com
---
---