FIC 2018: Angel helps upgrade consumption by yeast technology
March 27th
By C.YP
Food Ingredients China 2018 (FIC) is a three day exhibition held on March 22 at National Exhibition and Convention Center (Shanghai), during which Angel brought its products with the characteristics of "natural, nutritional, healthy and delicious" and technological solutions, furthermore delivering the innovative value that brought by yeast technology.
In FIC 2018, Angel not only provided solutions for improving flavor, reducing salt and adhering to "Clean Label", targeting on seasoning food industry, but offered innovative solutions for the standardization of staple food catering industry. What's more, Angel also showed its innovative achievements on improving dairy products quality, proteolysis of pants and animals, keeping food nutritional and healthy and traditional brewing field with cooking wine and vinegar as representatives.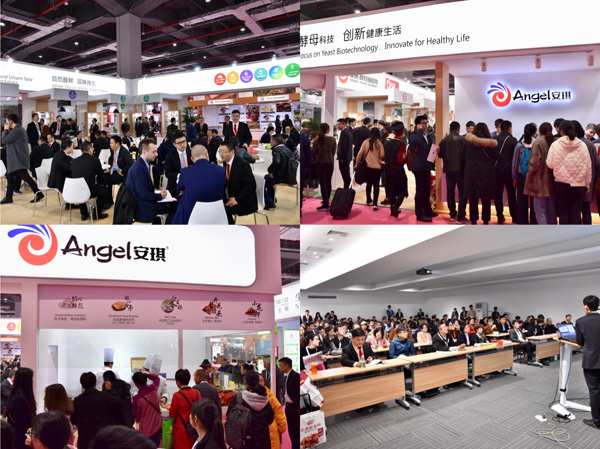 Angel YE (yeast extract), as the main business unit, showed to customers the difference of Angel high-umami YE and normal YE by leting customers have a live tasting experience. Angel holds the concept of "Clean Flavor", and the meeting of which needs three elements: accurate control for YE production, no off-flavors and clean label.
What's more, Angle organized 5 technical seminars in this exhibition, showed e-business platforms like Betty's kitchen and Biolab, launched craft beer business and demonstrated the application of new raw materials and technology in products, showing the great mission of Angel--Focus on Yeast Biotechnology, Innovate for Healthy Life.
Angel Yeast Company is a high-tech listed company specializing in yeast and biotech. Product business covers Yeast and Baking, Yeast Extract-Savoury, Nutrition & Health and Biotechnology fields. It is one of the world's leading companies in the yeast industry. Angel has 12 holding subsidiaries and provides products and services for more than 150 countries and regions.
Address: 168 Chengdong Avenue, Yichang, Hubei 443003, P. R.China
Tel: +86-717-6369520, 6369558
email: aie@angelyeast.com
---
---