Angel Brewing and Canadian Partner on CBCE 2019
May.20,2019
From May 15th to 17th, Craft Beer China Exhibition & Conference 2019 (CBCE 2019) was held at the Shanghai World Expo Exhibition & Convention Center. Angel, as an important raw martial supplier in the industry, shown on the exhibition.
With the theme "This Aroma of beer from yeast", Angel brewing team demonstrated the brewer's yeast product portfolio and its solutions for craft beer, highlighting the new products-- Saison Yeast S129, jointly developed by Angel and Renaissance/Bright yeast.
Jessica Swanson, chief scientist of Renaissance Bioscience from Canada, gave a technical report on Diastaticus yeast --- over pressurization of packaged beer. During the forum, she also interpreted the style and characteristics of Saison yeast and its application points of beer bottling on the Chinese craft beer industry.
Brewers, home brew lovers, beer raw materials and equipment manufacturers came to Angel booth for consultation. At the same time, some dealers went to Angel booth to communicate with the marketing plan for Saison Yeast S129, Fresco Cider Yeast and other new product, and willing to provide better service for beer customers.
During the conference, Angel, as compilation of Yeast, was invited to the book launching ceremony.
This is the third time for Angel to participate in the exhibition, which shows Angel's R&D in craft beer field, enhancing its influence in the industry. Meanwhile, Angel brewing team knows more about the craft beer market, and can have more guidance on future product marketing.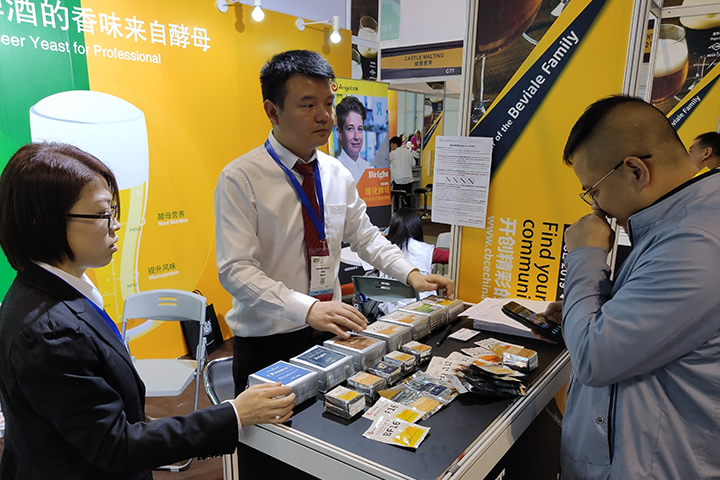 About Distilled Spirits and Biofuels Division:
Angel can provide brewing yeasts, ingredients and related technical services for the production of wine, beer, and other brewing liquor. All our products are natural, safe, and of high quality. With the current energy shortages around the world, the production of fuel ethanol through yeast fermentation has become an inevitable trend.
About Angel:
Angel Yeast Company is a high-tech listed company specializing in yeast and biotech. Product business covers Yeast and Baking, Yeast Extract-Savoury, Nutrition & Health and Biotechnology fields. It is one of the world's leading companies in the yeast industry. Angel has 12 holding subsidiaries and provides products and services for more than 150 countries and regions.
For more media information, please contact:
Angel Yeast Co., Ltd.
Yichang, Hubei, China
Ryan Wu
Tel.: +86 717 6353619
Email: wusy@angelyeast.com
en.angelyeast.com
---
---