Angel Brewing Attend International Wine Exhibition
Nov 27, 2019
The 28th SIMEI International Trade Fair for Winemaking and Bottling Machinery was held in Milan, Italy from November 19th to 22nd, 2019. Angel Yeast, as the only Chinese yeast company, participated in the exhibition with Renaissance Yeast, and yeast selection expert, and doctors in Italian wine filed.
During the exhibition, wineries, excipients and winemakers from many European countries came to Angel's booth for communication. Some winemakers who have used NO-H2S yeast said that the yeast brings surprises to wine: NO-H2S yeast has solved the problem of bad flavor substances in wines that have been plagued by winemakers for a long time.
As the world's historical wine producing region, the application of yeast products in the wine field is welcomed by winemakers, and yeast products are widely used in wine. Winemakers from Italy, France, Spain, etc. are also satisfied by using yeast products, which can not only improve the growth environment of yeast, but also improve the quality of wine, thus is loved by European winemakers.
Currently, Europe is one of most important market for Angel, with its product sold to many wine producing countries.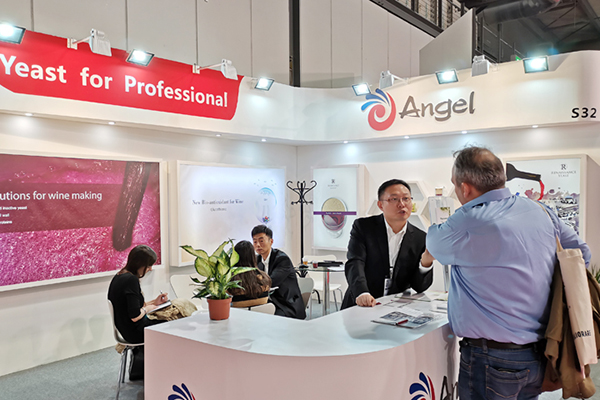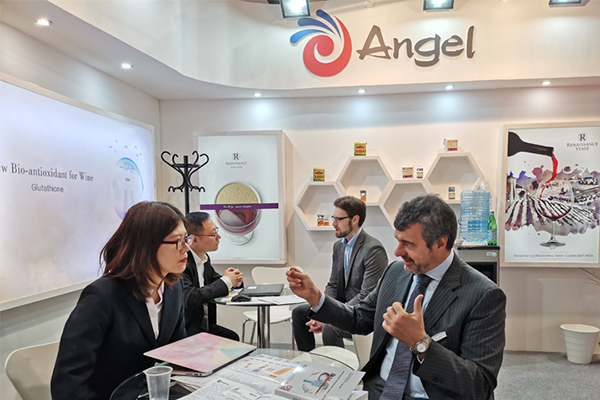 About Distilled Spirits and Biofuels Division:
Angel can provide brewing yeasts, ingredients and related technical services for the production of wine, beer, and other brewing liquor. All our products are natural, safe, and of high quality. With the current energy shortages around the world, the production of fuel ethanol through yeast fermentation has become an inevitable trend.
About Angel:
Angel Yeast Company is a high-tech listed company specializing in yeast and biotech. Product business covers Yeast and Baking, Yeast Extract-Savoury, Nutrition & Health and Biotechnology fields. It is one of the world's leading companies in the yeast industry. Angel has 12 holding subsidiaries and provides products and services for more than 150 countries and regions.
For more media information, please contact:
Angel Yeast Co., Ltd.
Yichang, Hubei, China
Ryan Wu
Tel.: +86 717 6353619
Email: wusy@angelyeast.com
en.angelyeast.com
Related tags:
---
---