The speech made by Angel on the twelfth Sugar & Ethanol Asia 2018
On March 6th, the twelfth Sugar & Ethanol Asia 2018 was held at the Sheraton Hotel in Bangkok, Thailand, lasting for 3 days. As the profession forum about sugar and ethanol, it attracts many ethanol enterprises from Thailand local place, from foreign countries like India, Indonesia,Philippines and so on.
This is the first time for Angel to attend and fund this forum. Liao Bei, deputy director of research institute of Angel Distilled spirits & Biofuels Division made a speech about China Ethanol and Biofuels: Meeting the Technical Challenges for E10 Production during the forum. He mainly introduced the opportunity and market developing trend of fuel ethanol and edible alcohol in China and demonstrated the latest research results of Angel in alcohol fermentation field, including nutrition, saccharified yeast and fungicide, which attracted lots of ethanol plants to come to consult.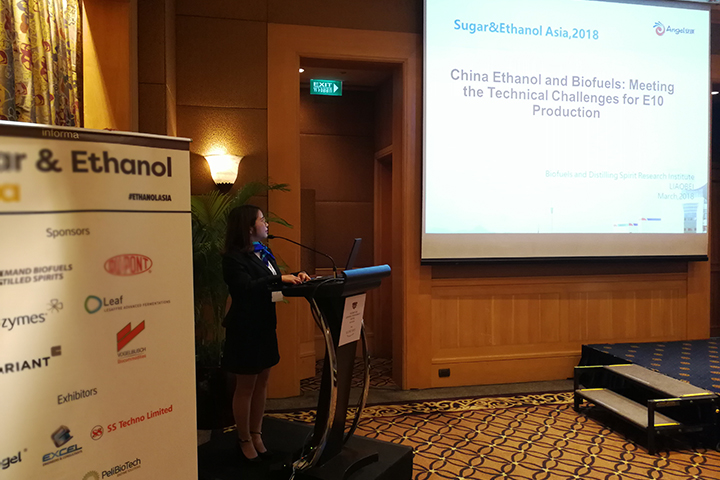 Liao Bei, deputy director of research institute is delivering the speech
Angel can provide brewing yeasts, ingredients and related technical services for the production of wine, beer, and other brewing liquor. All our products are natural, safe, and of high quality. With the current energy shortages around the world, the production of fuel ethanol through yeast fermentation has become an inevitable trend.
Angel Yeast Company is a high-tech listed company specializing in yeast and biotech. Product business covers Yeast and Baking, Yeast Extract-Savoury, Nutrition & Health and Biotechnology fields. It is one of the world's leading companies in the yeast industry. Angel has 12 holding subsidiaries and provides products and services for more than 150 countries and regions.
---
---