Angel Special Enzyme and Human Nutrition Division at FIA 2019
June 26, 2019
By Lily
On June 19 2019, the 21st exhibition of Healthy Ingredients (Hi) and Food Ingredients Asia (FIA) were held in National Exhibition and Convention Center (shanghai). Special Enzyme Division and Human Nutrition & Health Care Division jointly participated in this exhibition and were favored many customers for the focus on the introduction of yeast and enzyme solutions.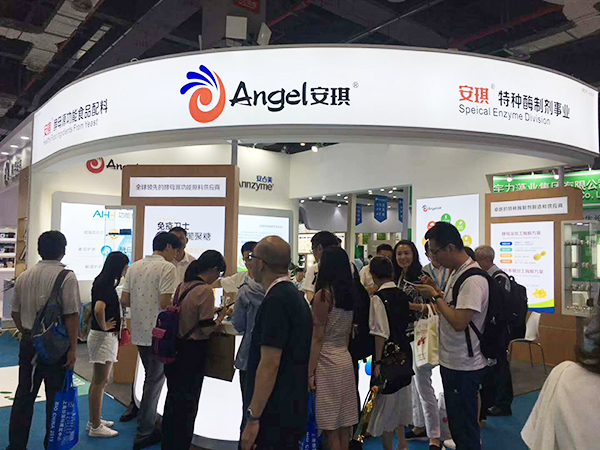 "Safety, health and innovation" are key words of FIA 2019 which represents the development trend of modern food manufacturing industry. Special Enzyme Division and Human Nutrition & Health Care Division are both precisely aiming at this market trend.
Focusing on the theme of healthy functional raw materials, Special Enzyme Division released several enzyme solutions for the production of functional raw materials, such as collagen processing, lactose hydrolysis, plant protein hydrolysis, yeast polysaccharide hydrolysis, functional food and etc, to fully display the image of "Annzyme" brand in the special enzymes industry.
Human Nutrition & Health Care Division has changed its previous idea of "displaying raw materials as the main theme" into six innovative schemes for functional food after fully understanding the pain points of downstream customers and market demands. They are immunity enhancement, beauty & skin care, liver protection, intestinal health, exercise recovery, fast diet. Samples displaying and tasting of final product which produced by our products has been highly recognized by customers. After fully understanding the solution, Dr. Tang from RB Group (China) show a great interest in yeast β-glucan and said "Yeast β-glucan has obvious advantages in improving the health and radiation resistance for pregnant women".
FIA is co-sponsored by Informa Markets and China Chamber of Commerce of Medicines & Health Products Importers & Exporters, which has been separated with CPHI for the first time this year and opened a larger stage. The first unite of Special Enzyme Division and Human Nutrition & Health Care Division show up on FIA is a perfect way to get a big cake of functional food ingredients.
About AnnzymeTM:
Annzyme is a new brand for Angel enzymes products. We are dedicated to providing customers with perfect solutions in many fields like baking, proteolysis, nucleic acid hydrolysis, starch further-processing etc, and already built highly automated production lines for enzymes and other biological products. We are committed to become the best enzymes supplier and service provider.
About Angel :
Angel Yeast Company is a high-tech listed company specializing in yeast and biotech. Product business covers Yeast and Baking, Yeast Extract-Savoury, Nutrition & Health and Biotechnology fields. It is one of the world's leading companies in the yeast industry. Angel has 12 holding subsidiaries and provides products and services for more than 150 countries and regions.
Press contact:
ANGEL YEAST CO.,LTD
Address: 168 Chengdong Avenue, Yichang, Hubei 443003, P. R.China
Tel: +86-717-6369520, 6369558
Fax: +86-717-6370680
email: aie@angelyeast.com
---
---