Four national standards for tool enzymes that Angel yeast has involved in drafting was officially implemented
August 14, 2018
By C.yp
Yu Chen reported that the four national standards for tool enzymes that Angel yeast has involved in drafting were officially implemented on July 1, 2018. These four standards are respectively restriction endonuclease BamHI, restriction thrombin, Taq DNA polymerase and pfu DNA polymerase. The implementation of these standards demonstrates the research and development capabilities of Angel's enzyme preparations and enhances the brand image of Angel's enzyme preparations.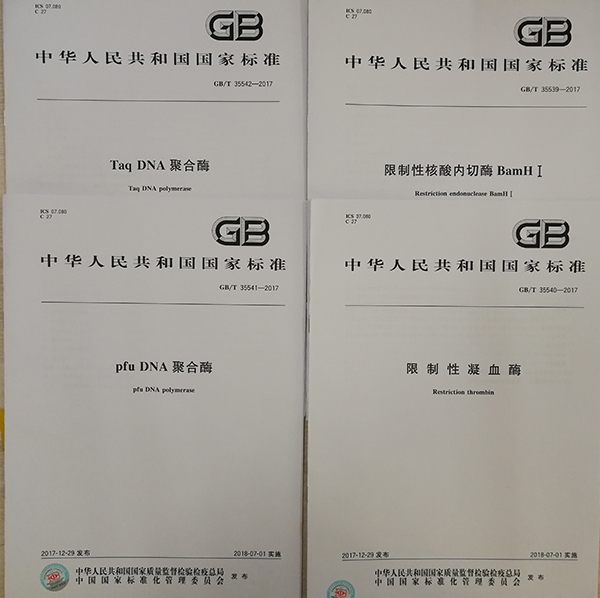 The tool enzyme is a series of biological enzymes that can cleave, link, amplify and modify genes. It is an important biological reagent that cannot be deleted in modern biotechnology industries such as genetic engineering, enzyme engineering, protein engineering, and cell engineering. The National Tool Enzyme Standardization Committee is committed to the quality standard planning, product development and promotion of tool enzymes.
This month, Yao Juan, director of Angel R&D center and general manager of the special enzyme division, will participate in the annual meeting of the National Tool Enzyme Standardization Working Group, during which Alkaline phosphorylase - Enzyme Activity and Impurity Detection Method, Protease K, Restriction endonuclease E.CORI enzyme activity and impurity detection method, superoxide dismutase, deoxyribonucleic acid I enzyme activity and impurity detection method, restriction endonuclease impurity detection Methods, Enterokinase Activity and Impurity Detection Methods drafted by Angel Yeast Company will be reviewed and discussed. At the same time, Yao is preparing to submit to the Standards Committee the requirements of the two national standards for the preparation of nuclease and Halogenol dehalogenase drafted by Angel Company, which will be reviewed and discussed in the next year.
In recent years, with the rapid development of biotechnology industry technology, various tool enzyme products have also experienced problems such as difficulty in measuring quality stability and inconsistent test results. The state has issued a series of policies or documents to regulate the biotechnology industry which need supports of operational controls, standards or methods.
Angel Special Enzymes Division actively participates in the standardization of tool enzymes, and plays a good role in regulating the application of related enzyme products. It also promotes the industrialization of various types of tool enzymes.
About AnnzymeTM:
Annzyme is a new brand for Angel enzymes products. We are dedicated to providing customers with perfect solutions in many fields like baking, proteolysis, nucleic acid hydrolysis, starch further-processing etc, and already built highly automated production lines for enzymes and other biological products. We are committed to become the best enzymes supplier and service provider.
About Angel :
Angel Yeast Company is a high-tech listed company specializing in yeast and biotech. Product business covers Yeast and Baking, Yeast Extract-Savoury, Nutrition & Health and Biotechnology fields. It is one of the world's leading companies in the yeast industry. Angel has 12 holding subsidiaries and provides products and services for more than 150 countries and regions.
Press contact:
ANGEL YEAST CO.,LTD
Address: 168 Chengdong Avenue, Yichang, Hubei 443003, P. R.China
Tel: +86-717-6369520, 6369558
Fax: +86-717-6370680
email: aie@angelyeast.com
Related tags:
---
---