20000 tons is only the starting point, Angel and Guoxing Nong will start again
By Shown Wei
April 29th, 2019
As we all know, organic fertilizer can be described as a hot product on the market, but it is also an indisputable fact that the sales quantity of organic fertilizer is difficult to raise.
According to incomplete statistics, about 60% of the more than 2,000 organic fertilizer producers in China currently have an actual annual sales volume of less than 20,000 tons.
20,000 tons seems to be a hurdle for the development of many organic fertilizer companies, but Angel Yeast Co., Ltd. does not agree. It is understood that Angel Fubon organic fertilizer has an annual sales volume of more than 20,000 tons in just the Guangdong market.
"20,000 tons is still our starting point. In the next few years, we will continue to strengthen promotion and service to ensure the continued growth of organic fertilizers in Angel Fubon." On April 10th, "wake up the soil, plant for quality – 2019 Angel Fubon Yeast Source Organic Nutrition Fertilizer Landmark Crop Planting - Guangdong Seven Years of Soil Launching Conference, Angel and Guangdong Guoxing Nong Leaders disclosed the development strategy of Guangdong Market of Angel Fubon Yeast Source Organic Fertilizer , and a deep analysis of the current agriculture market.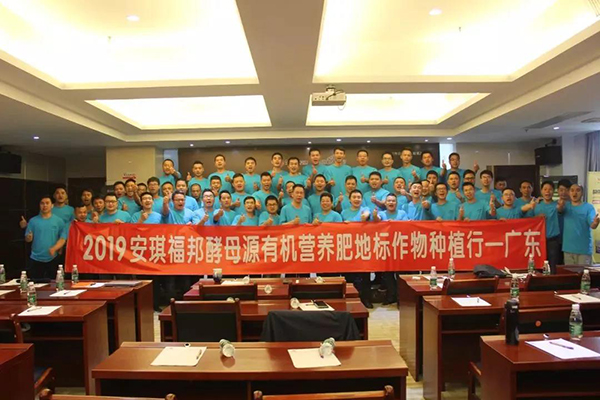 Pic: Starting meeting
Press contact:
ANGEL YEAST CO.,LTD
Address: 168 Chengdong Avenue, Yichang, Hubei 443003, P. R.China
Tel: +86-717-6371118
Fax: +86-717-6371118
email: weiqz@angelyeast.com
zhanjd@angelyeast.com
Related tags:
---
---