Angel Organizes Post Skill Training for Egyptian Staff
April 4th
By C. YP
After finished all the training courses in CTGU, Egyptian staff came to Angel factory to receive a further training about YE production. They have showed great passion and interest during the training courses and expected to gain a better understanding about Angel and master skills of YE production.
On March 29th, 33 Egyptian staff came to Angel Yichang factory. After a two-day safety training, they will receive a 5-month post skill training about YE production.
Before that, they had finished all the courses in CTGU (China Three Gorges University), including biological foundation course, YE technology knowledge, painting, calligraphy, Tai Ji etc. During the self-study courses at night their questions were answered by technologists.
From March 26th to March 27th, Egyptian staff received two-day knowledge training about Angel, given by leaders of relevant departments, such as enterprise culture of Angel, quality culture, safe production, strategies, environment protection, market etc. In order to make sure that every Egyptian staff can fully understand the training content, group leaders Tito and Yihia interpreted English into Arabic on the scene.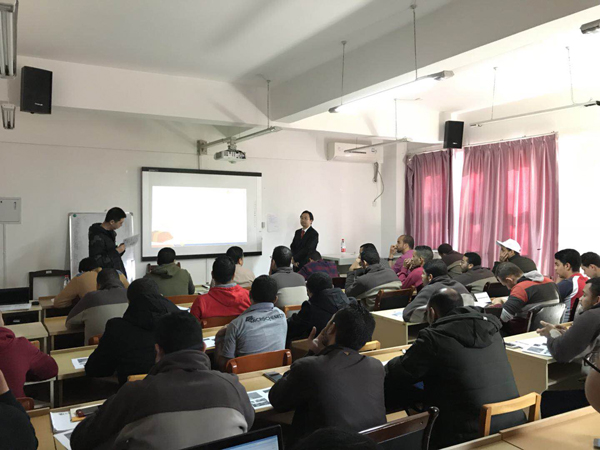 Through this training, Egyptian staff gained a better understanding about the culture of Angel and China, a higher pursuit for product quality and a stronger point of view of products varieties and safe production of Angel. They showed great attention and keen interests to YE production during the training.
About Yeast Extract-Savoury
Angel YE (yeast extract) made from edible yeast, by degradation the protein and nucleic acid in the yeast cells into nutritional seasonings with the application of modern biotechnology, has the advantages of increasing the fresh flavor, reducing salt, balancing the odor, strong tolerance and food properties, which promotes the global healthy operation of salt reduction and "clean label ".
About Angel:
Angel Yeast Company is a high-tech listed company specializing in yeast and biotech. Product business covers Yeast and Baking, Yeast Extract-Savoury, Nutrition & Health and Biotechnology fields. It is one of the world's leading companies in the yeast industry. Angel has 12 holding subsidiaries and provides products and services for more than 150 countries and regions.
Press contact:
ANGEL YEAST CO.,LTD
Address: 168 Chengdong Avenue, Yichang, Hubei 443003, P. R.China
Tel: +86-717-6369520, 6369558
Fax: +86-717-6370680
email: aie@angelyeast.com
Related tags:
---
---