Walnut Pie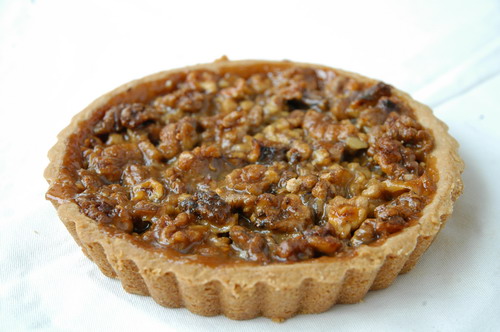 Ingredients % kg.g
Sugar Powder 60 450
Salt 40 300
Whole Egg 0.5 4
Cake Flour 10 75
Bakerdream Double Effect 100 750
Baking Powder(aluminum free) 0.5 4
Total 211 1583
Walnut Stuffing
Sugar 252
Honey 288
Bakerdream Margarine 63
Fresh Cream 120
Bakerdream Walnut Staff Powder 400
Grated Walnut(baked) 400
Total 1523
Method
Pie dough making:
1. Mix the margarine, the sugar powder and the salt, then add the whole egg liquid in separate times to be mixed evenly, finally add the screened cake flour and Bakerdream double effect baking powder, and mix evenly, then refrigerate the mixture for 2 hours for later use;
2. Make a 6-inch-diameter pie mold of 150g per piece as pie cover ready for later use.
Walnut stuffing making:
Heat the berry sugar, the honey, the Bakerdream brand margarine and the fresh cream and boil them to 115℃, then add Bakerdream walnut stuff powder and grated walnut (baked) quickly and mix them evenly, finally fill 200g stuffing into the 6-inch-diameter pie mold.
Baking temperature: 180℃/180℃
Baking time: 20-25minutes
After the walnut stuffing is cooled, screen some dampproof sugar powder on the surface.
The sweetness wraps with the crisp and fragrant walnut, with super attraction, worth of being shared with friends and family members.