Products & Services
Angel is a global manufacturer of yeast, bread improver and baking ingredients, also supply chinese dim sum and seasoning products. With its customers as the main focus, Angel provides a variety of applied technologies solutions.
---
Angel yeast extracts, a deep-processed product of baker's yeast, has variety of characteristics, such as salt reduction, Umami taste enhancing, clean taste, clean lable and natural properties
---
Using yeast as raw material, Angel Yeast has developed such healthy products and raw materials as nutritional yeast, trace elements enriched yeast, etc., all of which have been applied to dietary supplements, animal nutrition and cosmetics fields
---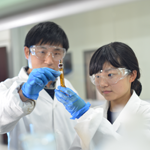 Biotechnology
Angel can provide brewing yeasts, ingredients and related technical services for the production of wine, beer, and other brewing liquor. Angel YE are widely applied in the biological laboratories and industrial-scale fermentation.Annzyme® as an excellent enzymes manufacturer and supplier focuses on baking, nucleic acid and protein hydrolysis, starch processing, feed fields.
See more