by Zoe Yang
Chen Zhixian, Senior Engineer of Health R&D for Maternity, Baby and Children, Nutrition and Health R&D Center, Angel Nutritech Company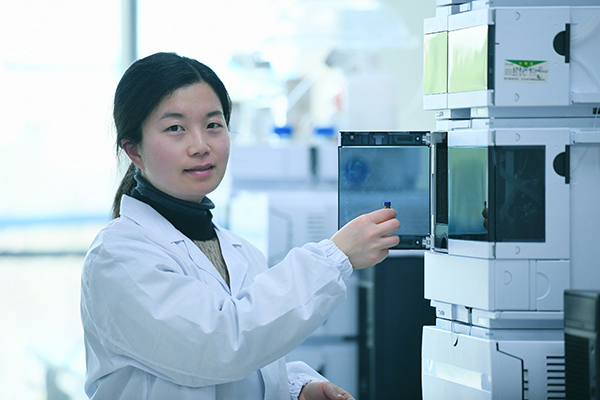 "My work focuses on exploring yeast nutrition and using evidence-based medical way to try to explain the benefits of these yeast ingredients to human health, including yeast probiotics, yeast proteins, nutrient-rich yeast, and yeast polysaccharides."
1. Committed to using yeast technology to improve human nutrition and health
My work focuses on exploring yeast nutrition and using evidence-based medical way to try to explain the benefits of these yeast ingredients to human health, including yeast probiotics, yeast proteins, nutrient-rich yeast and yeast polysaccharides. I am very proud that these food ingredients not only provide multiple solutions for customers, but also actually solve many health problems, or say, meet the nutritional needs.
Meanwhile, we try our best to communicate scientific nutrition knowledge (non-commercial perspective) to consumers without relevant education background in a popular way, so that they can better understand their health status and rationally choose the products they need.
2. Challenges and Opportunities
"Healthy China" is a national strategy for health of the Chinese people, and the massive health industry has also ushered in a period of opportunity for rapid development. The outbreak of COVID-19 also makes people pay unprecedented attention to their own health. Angel gains the largest market share in China, and our products are exported to more than 160 countries and regions. It can be said that Angel is a real multinational company. Human nutrition and health, where I work for, is only a small part of Angel's business landscape, and it has large potential though the business scale is small now. We are not only a supplier of raw materials and a provider of solutions, but also establish own B2C nutritional brands. In China, Angel is the pioneer of yeast nutrition products, and is committed to the integration of crossover resources, providing consumers with more scientific products.
3. Solidarity and collaboration, a trustworthy team
We usually face failures in research and development, and the support and tolerance from the managers are important. We develop the products to provide health benefits to consumers, especially for the infants and children. Therefore, various sufficient and necessary safety verifications and functional evaluations are required. The scientific principles behind this are profound, so the R&D cycle is long. In the processes from product research to process development, testing analysis, functional research and application research, our team members come from different parts of the country, with different educational backgrounds and expertise. We cooperate and encourage each other, with the same goal and simple interpersonal relationship. I also learned a lot from colleagues with different technical backgrounds.
In addition to being working partners, the team members are also friends in life. My team often organizes various activities and everyone is happy to participate in them.
Training and personal growth
Every week, we carry out a variety of trainings, such as patent drafting, technology improvement, new material information and regulations, to broaden the knowledge of team members. We regularly attend various academic forums or exhibitions at home and abroad to maintain our market sensitivity and foresight. In addition, the company regularly hires industry experts from external companies to provide targeted training for the needs of key employees to help individuals grow better.
The company encourages and provides funds to support employees to learn by themselves and improve their personal qualifications or skills. This motivates us to work more efficiently with more enthusiasm.
Emphasis on R&D and innovation

The company is committed to developing competitive products leading in the market and attaches great importance to fundamental research. For this, a number of incentive systems have been formulated, which makes us have extraordinary courage and confidence, and are willing to carry out pioneering and forward-looking research and development.
There are many project teams in my department. The members regularly communicate the problems existing in product development, often analyze product problems and identify quality risks together with the Production Department and the Quality Department, and discuss the source design of products with the Marketing Department and the Sales Department. Everyone in my department has a high level of dedication and get a great sense of achievement from these activities.