Angel Yeast unveils integrated solutions for the food industry at FIA Thailand 2019
Sep 13, 2019

By Estella
Fi Asia Thailand is now being held at Bangkok International Trade & Exhibition Centre from 11 to 13 September 2019. This year, three business units of Angel (Angel Yeast Extract Division, International Baking Division and Special Enzymes Division) jointly take part in the event. It is a big feast of food ingredient industry in the ASEAN region, attracting all leading international food and beverage professionals from all over the world.
Angel Yeast Extract Division highlights the concepts of Clean Label and Sodium Reduction and has in-depth conversations thereon with mega clients, professionals and professors. Besides, the R&D experts showcase tailor-made application solutions of sodium reduction and taste improvement in local dishes on their booth. That helps attendees to experience the palatable taste that yeast extract create in end products.
International Baking team has a discussion with their key customers about the annual plans, NPD programs, and "four-new" strategies. End-users and potential customers from Thailand, Malaysia, Indonesia, and Myanmar come to the booth to talk about the prospect of cooperation.
Special Enzymes Division launches the lactase, complex enzyme SF408, and enzymatic hydrolysis solutions for baking enzymes, animal protein, and plant protein on the even. It helps build a strong foundation for the promotion of special enzyme products, new brands, international market expansion, and solid relationships with distributors.
This year, Fi Asia 2019 celebrates their 24th anniversary and gives the award "Fi Asia Brand Ambassador" to Angel Yeast. Eric Ao, International Business Director of Angel Yeast Extract Division, was interviewed by "Fi TV". It brings Angel's global image to the next level.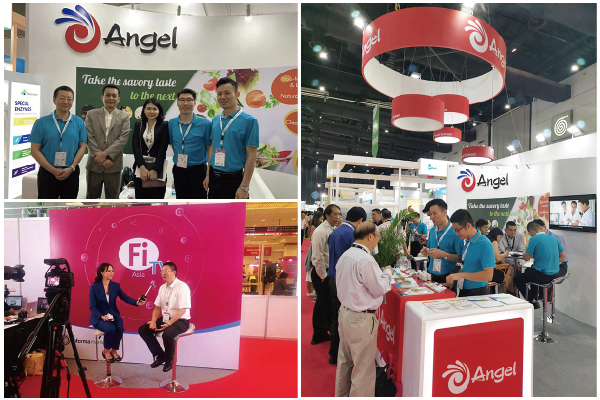 ---
About Angel Yeast Extract-Savoury:

Angel YE (yeast extract) made from edible yeast, by degradation the protein and nucleic acid in the yeast cells into nutritional seasonings with the application of modern biotechnology, has the advantages of increasing the fresh flavor, reducing salt, balancing the odor, strong tolerance and food properties, which promotes the global healthy operation of salt reduction and "clean label ".

About Angel:
Angel Yeast Company is a high-tech listed company specializing in yeast and biotech. Product business covers Yeast and Baking, Yeast Extract-Savoury, Nutrition & Health and Biotechnology fields. It is one of the world's leading companies in the yeast industry. Angel has 12 holding subsidiaries and provides products and services for more than 150 countries and regions.
http://AAANNNGGGEEELLLZW4jYW5nZWx5ZWFzdCNjb20=AAANNNGGGEEELLL/

Press Contact:
ANGEL YEAST CO.,LTD
Address: 168 Chengdong Avenue, Yichang, Hubei 443003, P. R.China
Tel: +86-717-6369520, 6369558
Fax: +86-717-6370680
Email: aie@angelyeast.com
---
---