An Indonesian customer receives twice services from Angel
July 3, 2019

By Ray Song
An Indonesian bread workshop's story about expanding the production and upgrading the system with the help of Angel.
It was in 2017 that the service story happened in a village an hour's drive from Medan, Indonesia. The boss Chen with family ties in Fujian, China runs the bread workshop. The biggest problem they face that time was the back arching of salty toast. Angel's technical director Wu Hongyuan with his team members goes for them to give guidance and help solving the technical problems.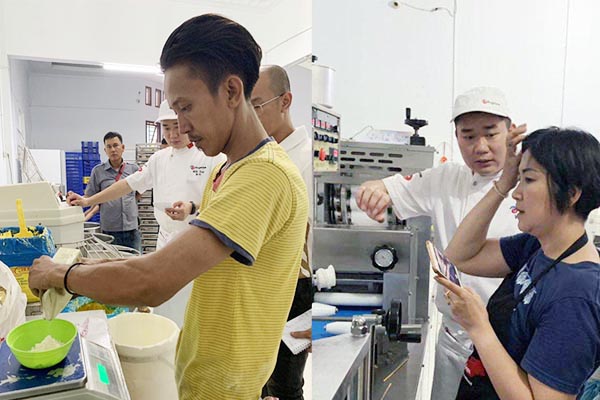 It is on July 3, 2019, two years since last visit. Angel's technician Xue Wei visits this customer again, seeing the photograph the customer took with director Wu hanging on the wall. Ms. Chen has just purchased an automatic bread production machine and is ready to expand the scale. However the new machine worries her so much. Problems such as hollow dough formation, different dough weights, and uneven filling may occur frequently. After a brief talking, the Angel master Xue, with years of industrial service experience, buries into work. Master Xue adjusts the formula, the wheelbase size and the speed of the section cutting. Finally the problems above have all been solved.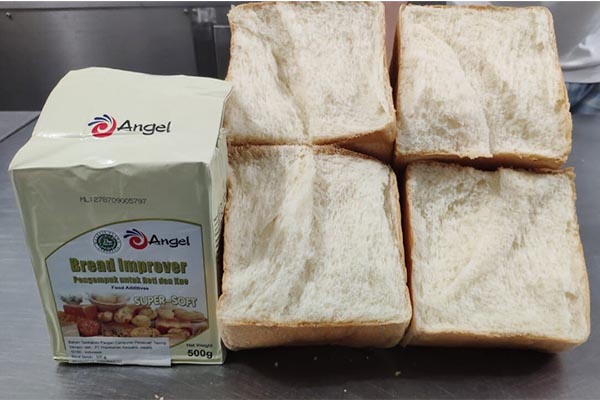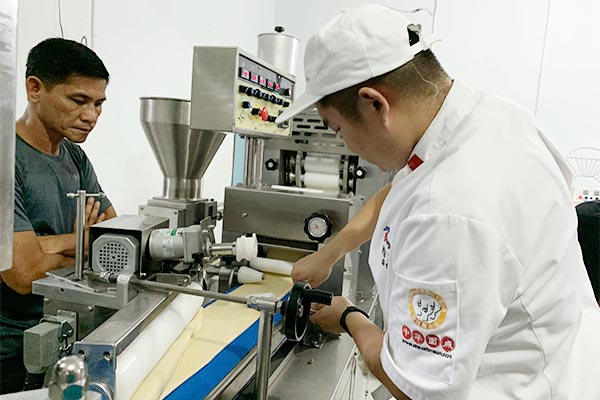 Xue added, " There are some differences between the formula of the industrial bread and the craft bread. The dough temperature as well as the suitable amount of water is very important. If with too much water, the dough can't be put onto the machine. Even if it works, the quality is not very good. Therefore the adjustment of the formula is a necessity.... In addition, the Angel super-soft bread improver plays a key and obvious role in the stable process of producing."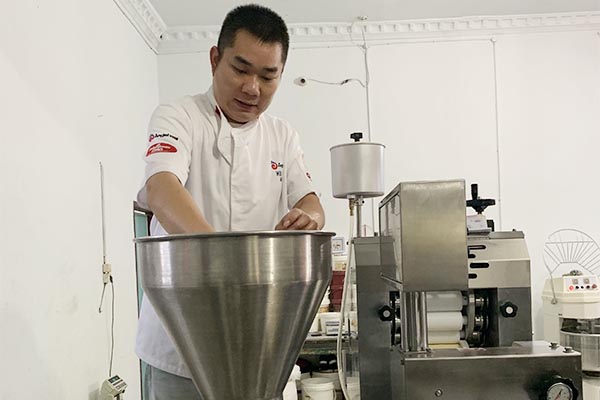 Chen is becoming more loyal to Angel products and feel they are being better served. He said excitedly, "Thank you for remembering us and always there supporting us once in need. We really appreciate that!"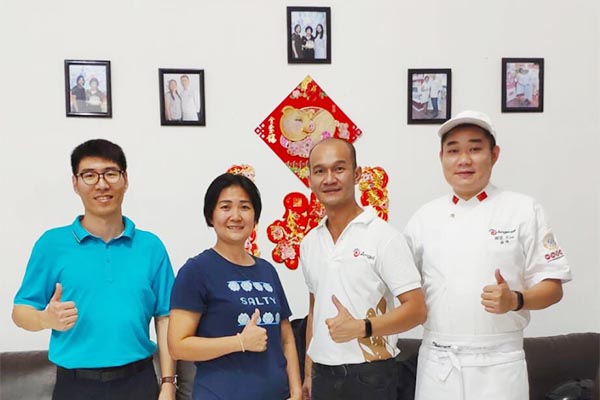 For you, we go all out. We upgrade together with customers when providing service for them.
Angel Yeast has absorbed the essence of the global baking industry to build a baking service platform and to provide more comprehensive solutions for the baking industry.
● Promoting healthy bread in China and developing a full set of application technology to meet consumers' demands.

● Continuously innovating bread categories and new technology to bring new opportunities for the bakeries and bread factories.

● Catering to the needs of the industrialization and intelligentization of the baking industry to provide more comprehensive solutions.

● Providing training and technical services to meet the different needs of customers, users and consumers.
Angel Yeast Company is a high-tech listed company specializing in yeast and biotech. Product business covers Yeast and Baking, Yeast Extract-Savoury, Nutrition & Health and Biotechnology fields. It is one of the world's leading companies in the yeast industry. Angel has 12 holding subsidiaries and provides products and services for more than 150 countries and regions.
http://en.angelyeast.com
Press contact:
Angel Yeast Co., Ltd.
● Address: 168 Chengdong Avenue, Yichang, Hubei, P. R. China

● Tel: +86-717-6369520

● Fax: +86-717-6370680

● Email: aie@angelyeast.com
---
---