Christmas Stollen
Christmas Stollen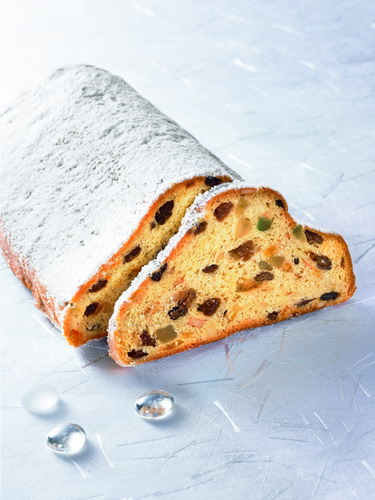 It is said that bread takes the shape of swaddle to commemorate the birth of Jesus. When Christmas approaches, people stop their busy footsteps to taste the bread with distinctive flavor and enjoy the life as much as they like.
Ingredients % kg.g
Sponge Dough
Bread Flour 30 450
Angel Instant Dry Yeast (sugar tolerant) 2.7 40
Pure Milk(Normal temperature) 25 380
Main Dough:
Bread Flour 70 1050
Sugar 12 180
Salt 0.8 12
Vanilla Extract 0.3 4.5
Almond Essence 0.3 4.5
Rum 0.4 6
Vanillin Sugar 0.4 6
Cardamom Powder 0.3 4.5
Black Pepper Podwer 0.12 1.8
Round Cardamom Powder 0.12 1.8
Pure Milk (Normal Temperature) 15 220
Soft Butter 40 600
Total 3031.1
Mixed Fruit
Chowchow Cherry 150
Molasses Lemon Peel Granula 150
Molasses Orange Peel Granula 150
Raisin 600
Cooked Almond Slices 150
Total 150
Method
- Dough making:After the sponge is fermented for 2-4 hours at room temperature, mix it with the materials of the dough
- Dough temperature: 26-28℃
- Time for proffing the middle: 20minutes
- Weight of the divided dough: 500g
- When fermentation is finished, bake the bread.
- Baking temperature: 180℃, with no steam
- Baking time: 30 minutes
- When the baking ends, cool the bread to 50-60℃, and dip it into the melted butter for 10-20 seconds, then take the bread out to be cooled, scatter dampproof powdered sugar on it, and after being refrigerated for 3-4 weeks, take out the bread and put it at normal temperature for eating, it tastes good.
Note: as sugar takes a large proportion of the product, please consider underlaying one more bakeware when baking the bread.