6 advantages that Angel-Nutritech new stick packages bring to consumers
Sept. 11, 2018
By Clara Jiang
Stick pack has become a new trend in the nutrition packaging industry due to its nice appearance, good sealing and high space utilization. It is one of the most popular packaging forms today and can provide a convenient, single-serve, portable package for today's on-the-go consumers.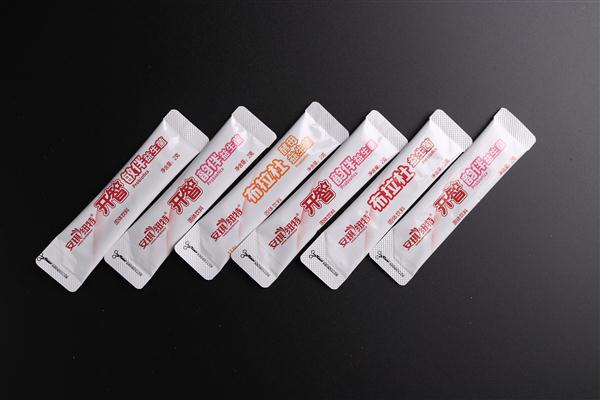 In recent years, lots of nutritional products are produced semi-automatically. As the leader brand for pregnancy, infant and children nutrition in China, Angel-Nutritech has invested tens of millions to a fully automated product line to produce nutritional products with stick pack, which has been put into use in the beginning of 2018. All of granules and powder products such as zinc supplement, calcium supplement, yeast protein powder and probiotic powder come from this line. It not only effectively guarantees the quality of the products, but also enhances customers' experience.
Why shall we choose stick pack? And what will stick pack products bring to customers? Let's see the 6 advantages of the stick pack products.
The stick pack, with a stylish appearance, is easy to carry and occupies little space, compared with flat sachet. Besides, strip packs can be put into boxes neatly and uniformly.

Scientific and humanized design is safer to use. The traditional with the square corner pack is like a sharp knife. It's easy to be hurt when you use it. However, Angel Nutritech stick pack adopts round corner, which not only owns a nice appearance, but also guarantees parents and children's safety.

Easy to tear open, improve customer experience. It is not an easy job to tear the pack open until the stick pack appears. The stick pack with the tear notch design makes it easier to tear open.

The stick pack material has been upgraded: we have thickened the composition of the pack material AL and PE so that the barrier properties of the bag are enhanced, it not only protects the internal nutrition, but also enhances antistatic performance, which prevents powder adhesion and enhances the consumer experience.

In the stick pack product line, the granule nutrient can be filled into stick pack precisely. In addition, this line has an online weighing system. It can automatically remove the products that do not meet the weight requirements. In this way, users can control the amount of nutrients well instead of relying on experience to estimate.

Support online inspection of batch number, production date, shelf life and can automatically eliminate the unqualified products, which effectively ensures product quality.
Angel-Nutritech actively invests in R&D, marketing, and services to continuously enhance customer value. In the future, Angel Nutritech will continue to invest in these areas to develop more and better nutrition for more people.

---
About Angel Human Health:
Specialized in yeast and fermentation, AHH is committed to developing innovative, differentiated, science-based functional ingredients and customized solutions, to help our customers get enduring success, as well as contribute to a healthier and sustainable world together.


About Angel:
Angel Yeast Company is a high-tech listed company specializing in yeast and biotech. Product business covers Yeast and Baking, Yeast Extract-Savoury, Nutrition & Health and Biotechnology fields. It is one of the world's leading companies in the yeast industry. Angel has 12 holding subsidiaries and provides products and services for more than 150 countries and regions.
Published by Clara Jiang

Market Analyst of Angel Human Health Division
Press contact:
ANGEL YEAST CO.,LTD
Address: 168 Chengdong Avenue, Yichang, Hubei 443003, P. R.China
Tel: +86 717 6369570
Email: Nutritech@angelyeast.com
---
---