If you want tomatoes to be sold in the morning and sell at a high price, try it.
Sept 2, 2019
By Shown Wei
In the seedling stage, the Fubon water-soluble organic fertilizer (containing biochemical fulvic acid) is used to produce roots and strong seedlings, but it is not only vegetative growth, but also conducive to flower bud differentiation in the middle and late stages of tomato, prolong flowering period and increase the rate of powdery.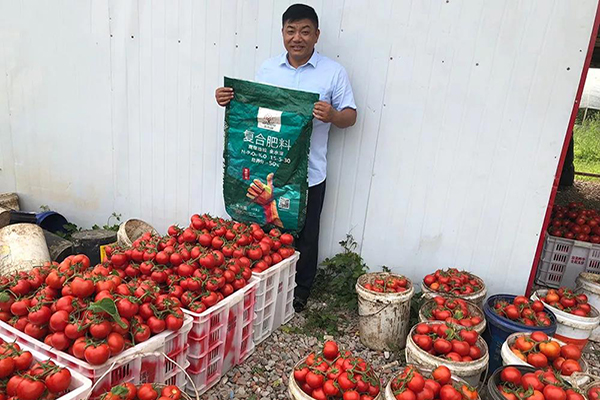 Pic 1: High yield and good quality.
After the crops are hung in the medium term, the upper layer of flowers should be differentiated due to the expansion of the underlying fruit. This is the stage where the maximum amount of fertilizer is required for the whole process of tomato growth. Use Xin zhenxian brand granules full water soluble fertilizer compound fertilizer (17-17-17), (15-5-30) with Yiweiyuan FY-9 yeast source organic whole water soluble (granule) and Xin zhenxian brand gold potassium magnesium fertilizer. The flowers and fruits of the tomatoes are not competing for fat, that is, the underlying fruit is not de-fertilized, the upper layer of flowers is not deficient in fertilizer, and the flower bud differentiation is well received. It has many advantages such as spikes, disease, deformity and less cracking.
In the later stage, in order to make a final sprint in advance. The application of Fubon's large-scale elemental water-soluble fertilizer balance type (20-20-20+TE) and high potassium type (15-5-35+TE) can increase the yield and increase the discoloration. The product will be listed 5-7 days in advance. Effectively avoid the uneven size of the ear, the upper layer of the fruit is small and so on. Make tomatoes in the picking period, high yield and good quality.
About Plant Nutrition:
The yeast source organic fertilizer has the advantages of being nutritional, efficient, environmental friendly, soil-improving, etc., and it is suitable for the application of high added value agricultural products, animal husbandry and economic crops. Angel is the founder of yeast source organic fertilizer, and the products all have passed through the EU Organic Certification and China Organic Certification.
About Angel :
Angel Yeast Company is a high-tech listed company specializing in yeast and biotech. Product business covers Yeast and Baking, Yeast Extract-Savoury, Nutrition & Health and Biotechnology fields. It is one of the world's leading companies in the yeast industry. Angel has 12 holding subsidiaries and provides products and services for more than 150 countries and regions.
Press contact:
ANGEL YEAST CO., LTD
Address: 168 Chengdong Avenue, Yichang, Hubei 443003, P. R.China
Tel& Fax: +86-717-6371118
Email: weiqz@angelyeast.com
zhanjd@angelyeast.com
---
---