In order to grow grapes well, science and diligence are indispensable
Sept 2, 2019
By Shown Wei
In the early stage, fertilization treatments that the traditional fertilization and Fubon fertilization schemes were set up in the garden. Three bunches of grapes were randomly selected in the two plots, and then we picked the shoulders of this bunch of grapes. Measuring the length and width of the grape granules and weighting the grain. After a simple comparison, there was no significant difference in the size of the two treatments.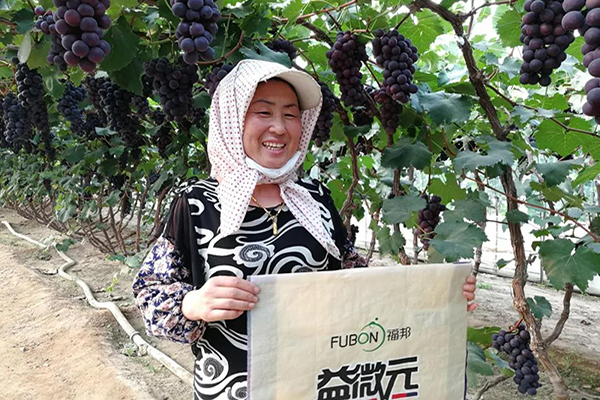 Pic 1: Aunt Xu's Vineyard.
However, single-grain weight of the grapes did an opposite result. The grape fruit weight of the Fubon fertilization program reached 16. 7 g, which was significantly higher than that of the control area. According to the calculation of 60 grapes per bunch, the single-bunch grape can reach about 1 kg, and the yield is higher after the end of the sugar increase.
The Fubon fertilization scheme not only has a thick fruit powder, but also has a high fruit hardness, which can effectively reduce cracking and prolong the fresh-keeping period. Because the grapes belong to the berry, the juice content is sufficient and the quality is soft. The results showed that the hardness of the grapes using the Fubon fertilization program reached 0.3 MPa, while the hardness of the traditional fertilized grapes reached 0.27 MPa.
About Plant Nutrition:
The yeast source organic fertilizer has the advantages of being nutritional, efficient, environmental friendly, soil-improving, etc., and it is suitable for the application of high added value agricultural products, animal husbandry and economic crops. Angel is the founder of yeast source organic fertilizer, and the products all have passed through the EU Organic Certification and China Organic Certification.
About Angel :
Angel Yeast Company is a high-tech listed company specializing in yeast and biotech. Product business covers Yeast and Baking, Yeast Extract-Savoury, Nutrition & Health and Biotechnology fields. It is one of the world's leading companies in the yeast industry. Angel has 12 holding subsidiaries and provides products and services for more than 150 countries and regions.
Press contact:
ANGEL YEAST CO., LTD
Address: 168 Chengdong Avenue, Yichang, Hubei 443003, P. R.China
Tel& Fax: +86-717-6371118
Email: weiqz@angelyeast.com
zhanjd@angelyeast.com
---
---