Planting "Bee Sugar Plum", only one method to say goodbye to the weak tree, small fruit bearing etc
July 31, 2019
By Shown Wei
Boss Yang from the Liuma Town cooperative has contracted 5,000 acres of plum gardens in the local area. Due to the location in the mountainous area, the soil erosion of the orchard was serious. The water retention and fertilizer retention capacity of the soil gradually weakened, which led to the fact that Boss Yang's plum trees were weak and the fruits were small.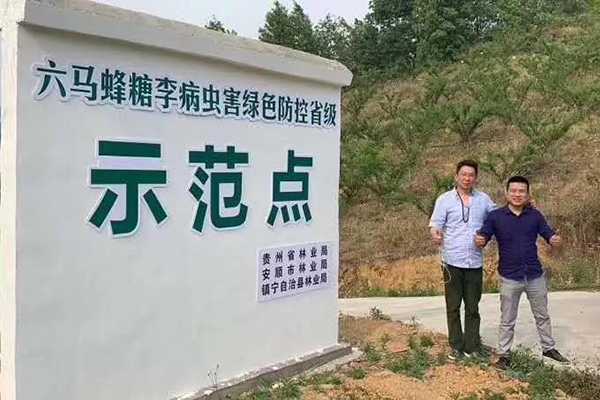 Pic 1: Fubon users liked the picture.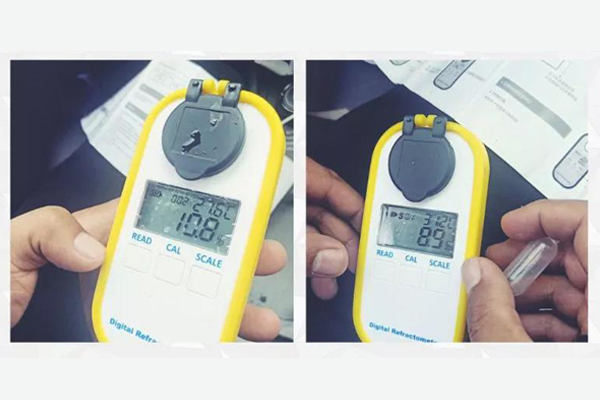 Pic 2: The measurement of sugar content comparison.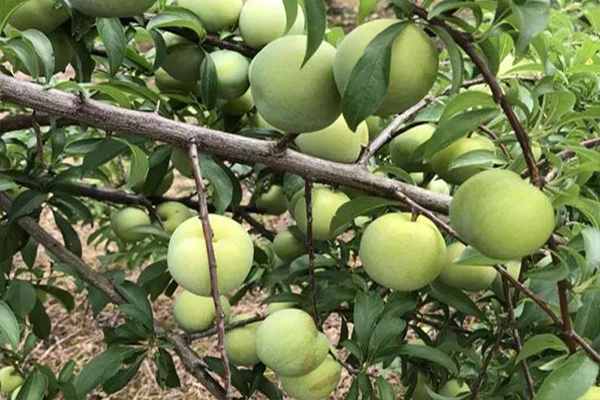 Pic 3: Plum fruits bearing.
Seeing that there was no hope for a bumper harvest, in order to restore this orchard and reduce losses, agricultural technology experts of "Fubon" gave some advises for Boss Yang: Using "Fubon" organic fertilizer (powder water soluble type) + "Newbom" full water soluble compound fertilizer (NPK: 15-5-30) package. After applying the "Fubon" + "Newbom" package fertilizer for 25 days, the time was right for a harvest. The "Fubon" team found that the plum fruits were good and fruitful; the trees were good, the leaves were green and shiny. By testing the sugar content, the plum on the left side which has used the Fubon + Newbom package reached 10. 8, and the right side which has used the other fertilizer was only 8. 9, which has clearly difference.
Boss Yang's plum trees not only have losses, in contrast the trees were strengthened. The fruits were evenly distributed and the sugar content was increased. Therefore, he was full of praise for the "Fubon" and "Newbom" fertilizers. Compared with traditional organic fertilizer, Fubon organic fertilizer (powder water soluble type) only needs 0.5-1KG for an adult tree, while the traditional organic fertilizer requires 5-10KG, which not only saves time and effort, but also cost-effectiveness, and it is quick-dissolving and quick-acting. The coloring of sugar is particularly obvious. Boss Yang said that he will vigorously promote the "Fubon" and "Newbom" products , and lets the surrounding people to produce more quality plums.
About Plant Nutrition:
The yeast source organic fertilizer has the advantages of being nutritional, efficient, environmental friendly, soil-improving, etc., and it is suitable for the application of high added value agricultural products, animal husbandry and economic crops. Angel is the founder of yeast source organic fertilizer, and the products all have passed through the EU Organic Certification and China Organic Certification.
About Angel :
Angel Yeast Company is a high-tech listed company specializing in yeast and biotech. Product business covers Yeast and Baking, Yeast Extract-Savoury, Nutrition & Health and Biotechnology fields. It is one of the world's leading companies in the yeast industry. Angel has 12 holding subsidiaries and provides products and services for more than 150 countries and regions.
Press contact:
ANGEL YEAST CO., LTD
Address: 168 Chengdong Avenue, Yichang, Hubei 443003, P. R.China
Tel& Fax: +86-717-6371118
Email: weiqz@angelyeast.com
zhanjd@angelyeast.com
---
---