The secret of good quality and price of citrus
June 28, 2019
By Shown Wei
In May 2019, late maturing citrus entered the first fruit thinning period. The author came to Wolong Town, Qionglai City, Sichuan Province, and Liu Youliang, a late-maturing citrus planter, was thinning the fruit. He told the author that the first fruit thinning is one of the key points to ensure the yield and quality of citrus. For citrus farmers, high yield and high quality have always been their goal of citrus management, but how to achieve this goal, Liu Youliang believes that by selecting and using appropriate fertilizer, the quality of citrus will naturally improve.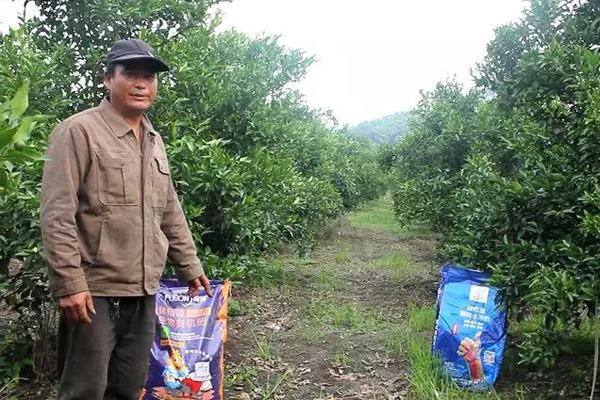 Sichuan is located in the southwest of China, the climate there is rainy and humid, which provides favorable conditions for the growth of late-maturing citrus. In order to improve the yield and quality of citrus and ensure the efficiency of planting, Liu Youliang hopes to find a fertilizer that can improve the soil conditions and provide the citrus trees with the nutrients needed for their growth. After introduced by friends, he learned about the Angel Fubon yeast source organic nutrient fertilizer.
"I started to use Angel Fubon's fertilizer in 2016. I didn't dare to use it at first. I only tried 2 tons." Liu Youliang said that he chose a small amount of fruit trees to apply. Unexpectedly, the fruit trees applied with organic fertilizers were quickly have an effect: the leaves were thick and shiny, and the trees grew much better than before.
Liu Youliang re-planned his 62-mu orchard, implemented refined management, and started to use Angel Fubon yeast source organic nutrient fertilizer in the whole orchard. After achieving quality improvement in his orchard, he shared his successful experience with more friends, and they all start to use this fertilizer under his recommendation. Liu Youliang said: "My neighbor has planted more than ten mu of kiwifruit. When topdressing, he used the water-soluble organic fertilizer of Angel Fubon to irrigate the kiwifruit. After the irrigation, the shape of the trees is obviously better looking, the leaves become thicker and darker, and the effect is excellent!"
About Plant Nutrition:
The yeast source organic fertilizer has the advantages of being nutritional, efficient, environmental friendly, soil-improving, etc., and it is suitable for the application of high added value agricultural products, animal husbandry and economic crops. Angel is the founder of yeast source organic fertilizer, and the products all have passed through the EU Organic Certification and China Organic Certification.
About Angel :
Angel Yeast Company is a high-tech listed company specializing in yeast and biotech. Product business covers Yeast and Baking, Yeast Extract-Savoury, Nutrition & Health and Biotechnology fields. It is one of the world's leading companies in the yeast industry. Angel has 12 holding subsidiaries and provides products and services for more than 150 countries and regions.
Press contact:
ANGEL YEAST CO., LTD
Address: 168 Chengdong Avenue, Yichang, Hubei 443003, P. R.China
Tel& Fax: +86-717-6371118
Email: weiqz@angelyeast.com
zhanjd@angelyeast.com
---
---