The worrying viral disease of the "Sunshine Rose" Grapes can be "healed" ?
July 31, 2019
By Shown Wei
Boss Ding of Xianyang City, Shanxi Province has been engaged in the cultivation of "Sunshine Rose" Grapes for many years. In mid-March this year, he accidentally learned about Angel "Fubon" yeast source organic nutrient fertilizer. Boss Ding was soon attracted by this effective organic fertilizer. The following two months he began to try to use the "FY-9" water soluble granular organic fertilizer and the "Newbom" water-soluble compound fertilizer (NPK: 17-17-17) the whole fertilizing process.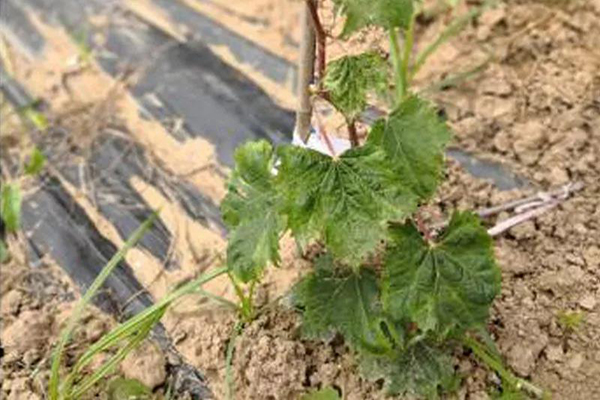 Pic 1: Grape leaf curling.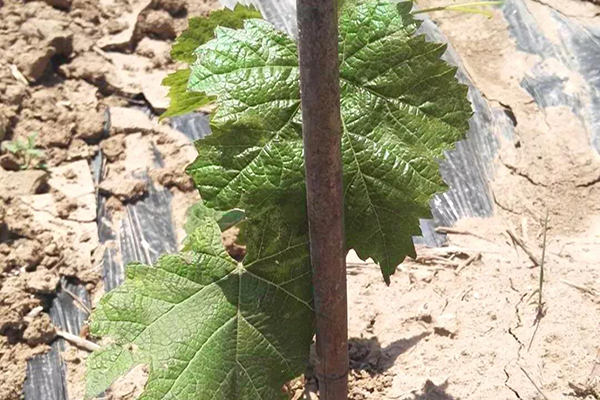 Pic 2: The leaf surface has fully extended, and the growth was good.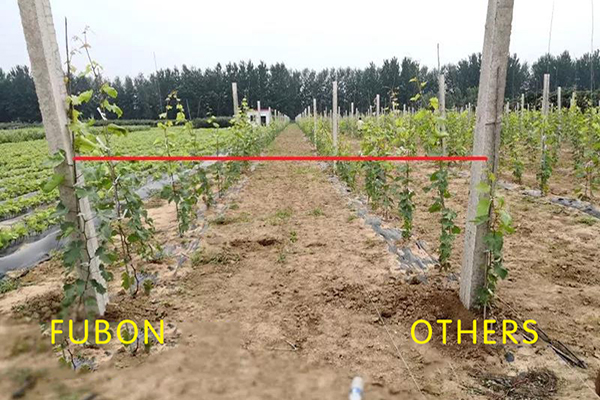 Pic 3: Comparison of the application of "Fubon" fertilizer and other fertilizers.
The first stage: planting in April, fertilizing in May
Use ratio: Use "FY-9" 20kg per mu, Use "Newbom" 20kg per mu, nitrogen fertilizer 3kg per mu. Because the "Sunshine Rose" variety is born with a viral disease which could cause the shrink of leaf surface, resulting in slow growth, foliar deformity, poor taste and so on. The result after use was shown in the following pic:
Starting from May when the height of the "Sunshine Rose" grapes were at about 30 cm, Boss Ding found that the application of "Yiweiyuan FY-9" full-water soluble granular organic fertilizer can alleviate the special condition of the variety, so he applied every 10 days, 20kg for 1 mu. After 10 days, the crops have been obviously "spiritual".
The second stage: Gradually reducing the dosage in June
Boss Ding gradually reduced the use of fertilizer the fourth time after fertilizing once every 10 days because the grapes have already passed the hardest time of viral disease by the application of "Fubon" and the "Newbom", and it is currently growing well. In consideration of the excessive use of fertilizer may affect the growth of grapes, it is recommended to fertilize the grapes once every half month.
By fertilization comparison, we clearly found that the vines and leaf surface size of the grapes were strong in contrast. Boss Ding was very satisfied with the result and he was looking forward to the performance of the late fruit bearing.
About Plant Nutrition:
The yeast source organic fertilizer has the advantages of being nutritional, efficient, environmental friendly, soil-improving, etc., and it is suitable for the application of high added value agricultural products, animal husbandry and economic crops. Angel is the founder of yeast source organic fertilizer, and the products all have passed through the EU Organic Certification and China Organic Certification.
About Angel :
Angel Yeast Company is a high-tech listed company specializing in yeast and biotech. Product business covers Yeast and Baking, Yeast Extract-Savoury, Nutrition & Health and Biotechnology fields. It is one of the world's leading companies in the yeast industry. Angel has 12 holding subsidiaries and provides products and services for more than 150 countries and regions.
Press contact:
ANGEL YEAST CO., LTD
Address: 168 Chengdong Avenue, Yichang, Hubei 443003, P. R.China
Tel& Fax: +86-717-6371118
Email: weiqz@angelyeast.com
zhanjd@angelyeast.com
---
---