Title: Sugar from 14 to 20: This kind of fruit tastes exciting!
Oct 17, 2019
By Shown Wei
In Zhoujia Town, Yingkou, Liaoning Province, farmers from the surrounding areas of Zhoujia Town, have rushed to the harvest festival with their own plums. At the scene, a batch of high-sweetness plums with sugar content of 18-20 degrees received the enthusiastic attention of the audience. As a common Dahongpao plums with a sugar content of only 13-15, how these plums were planted is quite curious.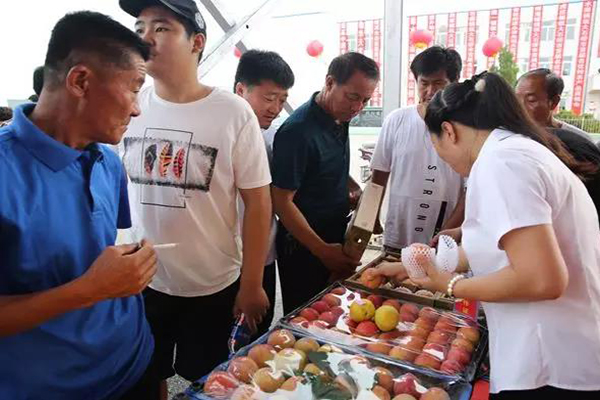 P1: Every plum fights for beauty
What is the concept of sweetness 20? For high-sweet grapes, sugar is about 20, plums can achieve such sweet, taste and quality can be imagined.
At this plum festival, the selection of Dahongpao Plums King has attracted more attention. The villagers brought the top plums from the orchard to compete. The opening ceremony had just reached 10 a.m., and dozens of attractive plums of all sizes had been placed on the entry desk. On that day, after many rounds of competition, five groups of Zhang Zhaoyong's plums in Zhoujiacun, Zhoujiazhen, became famous in the first battle and won the current Li King Award. According to a judge, in addition to the advantages in appearance and size, high sweetness and good taste are the key factors for Zhang Zhaoyong's plum to stand out.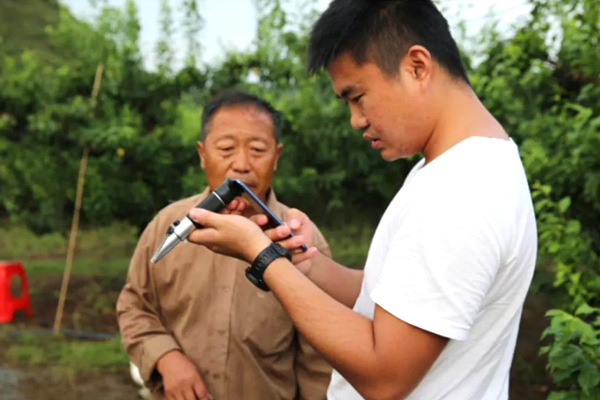 P2: On-site Sugar Measurement
What is the reason behind the high sweetness? Reporter visits learned that these three farmers are local plum planters, including Mr. Zhou has been planting plums for nearly 20 years. At the same time, the three growers have one thing in common: they use Angel Fubon yeast source series organic fertilizer products.
High-quality plum fertilizer is very exquisite. On the one hand, Yu Enlong investigated and sorted out the experience of using fertilizer scientifically, on the other hand, he also raised plum orchards in person to explore the high-quality planting scheme of Dahongpao plum. Last year, he tried the "soil improvement, quality improvement" fertilization program for more than 200 mu plum orchards, which shocked the surrounding farmers, even himself.
P3: Plums King Selection and Registration Site
"There are three main factors in judging high-quality Dahongpao plums: safety, pesticide residues and heavy metals can not exceed the standard; appearance, including size and color; and taste, including sugar and acidity." Yu Enlong's criteria are also the criteria for the first selection of Plum King. Angel Fubon yeast source series products are effective for these three elements. Behind the sweet plums, Angel Fubon yeast source fertilizer series is highly sought after by people.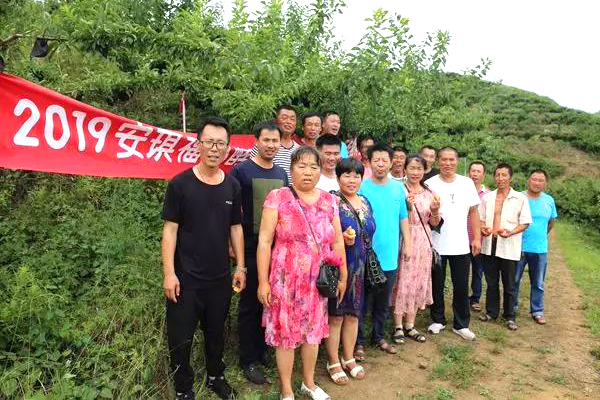 P4: Investigation delegation on plums demonstration garden
With the advantages of raw materials and science and technology, Angel Fubon yeast products are becoming star fertilizers in high-quality crop growing areas in Liaoning Province. According to Hu Yanjun, general manager of Haicheng Runda Agricultural Distribution Co., Ltd., a local distributor of Angel Fubon, the quality improvement effect of this product on lighthouse grapes has been verified before. This time, Dahongpao plums in Zhoujiazhen showed good performance. There are still many surprises. In the follow-up activities, he will decrypt them one by one.
About Plant Nutrition:
The yeast source organic fertilizer has the advantages of being nutritional, efficient, environmental friendly, soil-improving, etc., and it is suitable for the application of high added value agricultural products, animal husbandry and economic crops. Angel is the founder of yeast source organic fertilizer, and the products all have passed through the EU Organic Certification and China Organic Certification.
About Angel :
Angel Yeast Company is a high-tech listed company specializing in yeast and biotech. Product business covers Yeast and Baking, Yeast Extract-Savoury, Nutrition & Health and Biotechnology fields. It is one of the world's leading companies in the yeast industry. Angel has 12 holding subsidiaries and provides products and services for more than 150 countries and regions.
Press contact:
ANGEL YEAST CO., LTD
Address: 168 Chengdong Avenue, Yichang, Hubei 443003, P. R.China
Tel& Fax: +86-717-6371118
Email: weiqz@angelyeast.com
zhanjd@angelyeast.com
---
---