By Yuanqi

There are many types of cheeses with complex flavors that undergo changes during ripening. The development of cheese flavor is essentially the hydrolysis of protein, where the characteristic flavor is produced by enzymes or leavening agents. Yeast extract, a microbial protein, can be in accord with cheese processes or flavoring.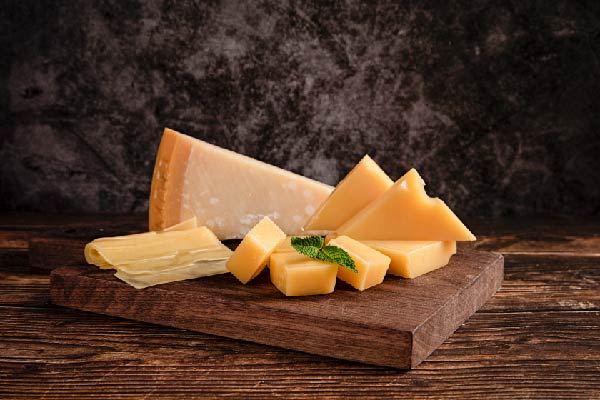 1. Yeast extract improves the overall flavor and intensifies the Old cheese flavor.

Yeast extract, containing natural flavored nucleotides, polypeptides, amino acids, organic acids, etc., is used in a wide range of foods as a natural flavor enhancer. Adding yeast extract to cheese products can enhance the overall richness and aftertaste thanks to the flavor components; and can intensify the Old Cheese flavor by using certain yeast extract products containing characteristic peptides. In addition, in some sodium-reduced cheeses, yeast extract can effectively mask the bitterness brought by potassium and balance the overall taste profile, effectively helping to reduce the sodium contents.
The salt reduction solutions of

cheese flavor ingredients

Ingredients

Control

Reduce salt sample

Water

40

40.45

Cheese

25

25

butter

20

20

Modified starch

1. 5

1. 5

Milk powder

5

5

Salt

1. 7

0.85

Yolk powder

2

2

Onion powder

2

2

vinegar

3

3

Citric acid

0.2

0.2

Cheese flavor

0.2

0.2

colour

0.02

0.02

0

0.4
2. Yeast extract provides functional amino acids.
Amino acids are the precursors of different volatile flavor compounds identified in cheese, it yields the characteristic aroma of cheese after degradation or reaction. Yeast extract is rich in amino acids such as glutamic acid, alanine, leucine, among others, as well as some characteristic amino acids such as γ-GABA (which has been associated with functions such as aiding sleep, easing pain, and lowering blood pressure. Of them, glutamic acid produces γ-GABA through decarboxylase, which is contained in the cheese itself; and leucine produces 3-methylbutyraldehyde through decarboxylase, which is the key to the flavor of Cheddar Cheese.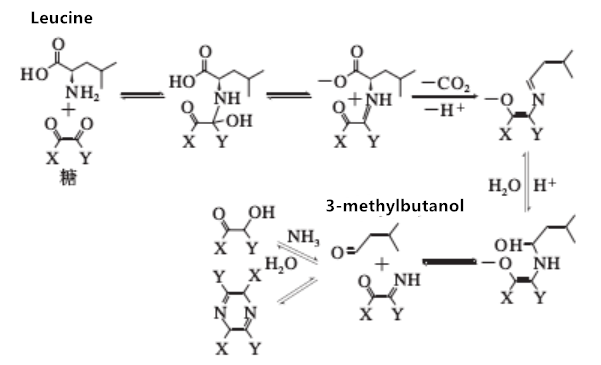 (Strecter degradation pathway of Leucine)
3. Yeast extract brings in signature aroma.
Some yeast products with fruity and nutty aromas, such as Roller dried yeast, have similar characteristic flavors to Cheddar Cheese, which can enhance the Cheese flavor and impart a flavor base at the same time.
4. Yeast protein constitutes a clean, easily absorbable, and sustainable protein source.
With the expansion of vegetarian meals, "vegetarian fish", "vegetarian seafood" and "vegetarian cheese" were gradually added to the demand system for market development. The protein of cheese comes from milk, an animal-derived protein, with a digestibility of up to 90%. When choosing substitute raw materials for vegetarian protein, yeast protein perfectly meets the requirements.
AngeoPro F80, derived from eco-friendly fermentation process, is an innovative protein source produced by Angel Yeast. It features high protein content more than 75%, and contributes to taste enhancement, nutrition-boosting, and off-notes masking. It does not have off-notes and is free from allergen, non-GMO, absorbable (digestibility up to 90%), and not restricted by manufacturing season. Find more here.
---
About Angel Yeast Extract-Savoury:
Angel YE (yeast extract) made from edible yeast, by degradation the protein and nucleic acid in the yeast cells into nutritional seasonings with the application of modern biotechnology, has the advantages of increasing the fresh flavor, reducing salt, balancing the odor, strong tolerance and food properties, which promotes the global healthy operation of salt reduction and "clean label ".
About Angel:
Angel Yeast Company is a high-tech listed company specializing in yeast and biotech. Product business covers Yeast and Baking, Yeast Extract-Savoury, Nutrition & Health and Biotechnology fields. It is one of the world's leading companies in the yeast industry. Angel has 12 holding subsidiaries and provides products and services for more than 150 countries and regions.
http://en.angelyeast.com/
Press Contact:
ANGEL YEAST CO.,LTD
Address: 168 Chengdong Avenue, Yichang, Hubei 443003, P. R.China
Tel: +86-717-6369520, 6369558
Fax: +86-717-6370680
Email: yefood@angelyeast.com