Boost Savory Taste in Borscht
By Estella Ji

How to improve the overall taste, Xian/umami taste, and prolong the lingering taste in food recipes? Yeast extract, the beloved natural ingredient, has given us the best answer. It not only creates an exciting explosion of palatable experience in your recipes, but also works to replace MSG and I+G, reduce sodium intake and meets the needs of clean label.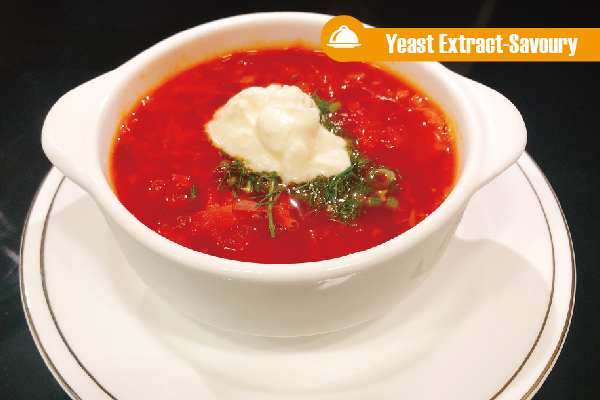 Watch this Borscht video to find out how to cook mouth-watering Borscht soup with just 0.25% of Angel Yeast Extract. A Must Try of this summer.
INGREDIENTS
250g parsley, chopped
250g onion, chopped
250g cabbage, chopped
3 garlic cloves, minced
3 medium beets (500g, 1/2 chopped, 1/2 minced)
240g smoked pork sausage, sliced
25g butter
1800g water
2 carrots, peeled and shredded
1 potato, chopped
25g tomato paste
1 large tomato, chopped
10g Angel Yeast Extract KU012
10g Angel Yeast Extract VTB232
1/2 cup sour cream, for topping
Dill, minced
Salt and pepper
PREPARATION
1. Peel and prepare the ingredients.
2. Heat with butter.
3. Add the onions, garlic, parsley, and cabbage, stirring frequently until they are tender.
4. Add other vegetables. Cook, stirring occasionally, about 5 minutes.
5. Add water, simmer for 20 minutes.
6. Add salt, Angel yeast extract and pepper to taste.
7. Garnish the soup with sour cream and dill.
---
About Angel Yeast Extract-Savoury:
Angel YE (yeast extract) made from edible yeast, by degradation the protein and nucleic acid in the yeast cells into nutritional seasonings with the application of modern biotechnology, has the advantages of increasing the fresh flavor, reducing salt, balancing the odor, strong tolerance and food properties, which promotes the global healthy operation of salt reduction and "clean label ".

About Angel:
Angel Yeast Company is a high-tech listed company specializing in yeast and biotech. Product business covers Yeast and Baking, Yeast Extract-Savoury, Nutrition & Health and Biotechnology fields. It is one of the world's leading companies in the yeast industry. Angel has 12 holding subsidiaries and provides products and services for more than 150 countries and regions.
http://en.angelyeast.com/

Press Contact:
ANGEL YEAST CO.,LTD
Address: 168 Chengdong Avenue, Yichang, Hubei 443003, P. R.China
Tel: +86-717-6369520, 6369558
Fax: +86-717-6370680
Email: aie@angelyeast.com
---
---