Ingredients:
Oxtail(chopped), tomato, parsley, onion.
Butter, tomato sauce, salt, black pepper, wine, yeast extract (Angeotide KA301, Angearom SA524)
Steps:
1. Clean the oxtail; Chop the onion, parsley; Cut down the tomato into small pieces and set aside.
2. Heat the butter, add the onion and parsley, fry gently until softened.
3. Add the oxtail and fry for 30 seconds, then add wine to fry for 1min, add warm water to cover the oxtail.
4. Add yeast extract KA301 and stir well, bring it to boil, then turn down the heat and simmer until the oxtail is tender(about 2 hours).
5. Add tomato, tomato sauce, and yeast extract SA524, stir well and boil for 15min.
6. Add some salt and black pepper before take it out.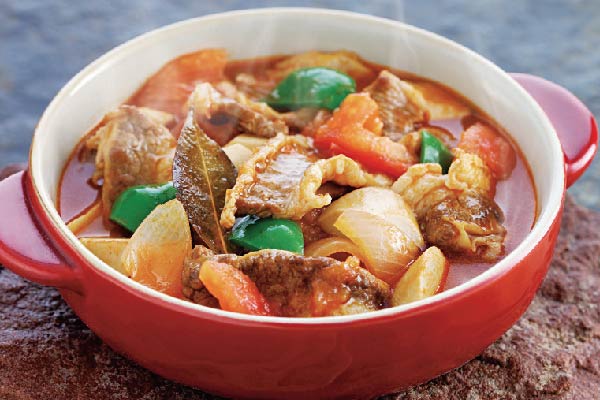 Recommended YE:
Yeast extract is widely used in soup and bouillon to give a more delicious taste.
Angeotide KA301 is a Hou-feel yeast extract which is rich in small peptides. When used in the tomato oxtail soup, it can increase the original taste of the tomato.
Angearom SA524 is a Beefy Flavor yeast extract, with a roasted note. When used in tomato oxtail soup, it can bring out more beefy flavor and lingering taste.
About Angel Yeast Extract-Savoury:
Angel YE (yeast extract) made from edible yeast, by degradation the protein and nucleic acid in the yeast cells into nutritional seasonings with the application of modern biotechnology, has the advantages of increasing the fresh flavor, reducing salt, balancing the odor, strong tolerance and food properties, which promotes the global healthy operation of salt reduction and "clean label ".
About Angel:
Angel Yeast Company is a high-tech listed company specializing in yeast and biotech. Product business covers Yeast and Baking, Yeast Extract-Savoury, Nutrition & Health and Biotechnology fields. It is one of the world's leading companies in the yeast industry. Angel has 12 holding subsidiaries and provides products and services for more than 150 countries and regions.
http://en.angelyeast.com
Press Contact:
ANGEL YEAST CO.,LTD
Address: 168 Chengdong Avenue, Yichang, Hubei 443003, P. R.China
Tel: +86-717-6369520, 6369558
Fax: +86-717-6370680
Email: yefood@angelyeast.com