Taste Preference of Instant Noodles in the Asia Pacific and its Application to Yeast Extract
By Chris Guo

1. Global instant noodle market revenues in Jan. 2017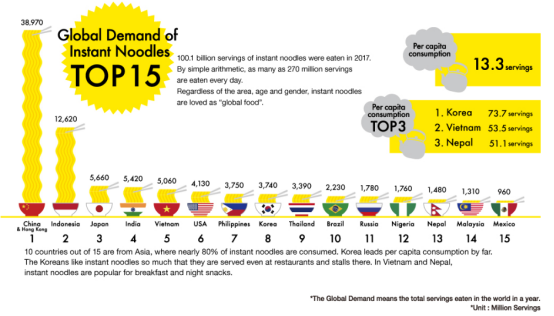 Data from WINA
According to Nielsen Market Research report, the global instant noodle market tends to be stable and shows an uptrend in 2017. In this year, the global demand for instant noodles amounted to approximately 100.1 billion servings. Asia occupies 10 of the top 15 countries in the consumption list, and the consumption of instant noodles amounted to approximately 80% in Asia. In the annual consumption per capita, Korea is far ahead (73. 3 servings per capita consumption). Ramen, a typical instant noodles in Korea, enjoys wide popularity among Korean consumers. China is still the biggest market of Instant Noodles in the world. According to the 2018's China Business Industry Research Institute's "Market Prospects of China's Instant Noodles Industry Research Report 2018", the retail revenue of noodles market will reach about 93. 7 billion yuan in 2021, and the annual growth rate from 2016 to 2021 is estimated to be about 2. 9%. This shows that instant noodles still have significant market potential in China.
2. Market share in the Asia Pacific Region
Data from Euromonitor
The Asia Pacific is the most attractive instant noodle market in the world. In reference to the market share in Asia-Pacific, Master Kong, Nissin, Uni-president, Maruchan, Nongshim, Jinmailang, Nestle and Indofood amounted to approximately 55%. As an important instant noodle consumer market in the world, China has a market share of 43. 2% of the world's instant noodles market in 2017. Among which Master Kong holds a share of 44. 2% of the Chinese instant noodle market in 2017, and Uni-president holds 21. 1%.
3. Flavor characteristics of instant noodles in different countries
Countries

Flavor Characteristics of Instant Noodles

Hot-sale Product

Korea

Aroma: Meaty notes obtained through thermal reaction; Fewer flavor substances; Sauce flavor, garlic and other vegetable flavors.

Taste preference: Prefer spicy spices such as red pepper, onion, pepper, garlic; All kinds of extracts are widely used (such as beef bone, crab, kelp, yeast extract, etc.) to enhance the soup base with thick and round feeling. Non-spicy chicken stock base and white soups called champon have become popular in recent years.

Japan

Aroma: Add soy sauce and flavor enhancer to pork bone soup, chicken stock soup, seafood soup and other soups; Natural aroma; Focus on the quality of soup base, white soup is common.

Taste preference: Typical Japanese noodles are Udon, Soba, Miso noodles and so on. Light taste. There are a wide variety of noodles, including those developed in collaboration with local ramen shops and famous restaurants, and low-calorie, low-salt, low-fat products for health-conscious consumers.

  

China

Aroma: Prefer specific flavor made of beef, chicken based soup; ypical Chinese spices (made of fennel, cinnamon, cloves, citrus peel, star anise and other spices) aroma.

Taste preference: thick, spicy, sour, and Xian/Umami flavor.

Contents: Versatile sauce packaging designs including instant noodles, flour bags, sauce bags, meat bags, vegetable bags, dehydrated vegetable bags.

Vietnam

  

Taste preference: Tom Chua Cay Flavor(a mixture of shrimp and acidic flavors) is the most popular flavor, and Vietnamese people prefer noodles with elasticity. They also add onions, lemons, and peppers to cooked instant noodles. In addition to flour noodles, many products use pho rice noodles, which is unique to Vietnam.

  

India

Aroma and taste preference: Curry(masala) flavor and chicken tikka flavor are the most popular in India; Roughly 60% of Indians are vegetarians due to religious reasons, and therefore vegetable and tomato-based soups are eaten the most.

Indonesia

  

Aroma: moderate aroma; the favorite spices include curry flavor, white pepper, garlic and onion.

Taste preference: Prefer mixed noodles; soup noodles are less used; Fried noodles called "Mie Goreng" are the most popular type of noodle with Indonesia consumers. Vegetable, chicken, seafood, beef, and shrimp flavors that have chili condiments or sweet soy sauce are popular. The overall mouthfeel is salty, Xian/Umami and spicy. As the majority of the population is Muslim, most products are halal.



4. Xian/Umami ingredients used in instant noodles in different countries
Countries

China

Korea

Indonesia

Japan

Commonly-used Xian/Umami Ingredients

Monosodium glutamate, I+G, HVP, meat extract, yeast extract, soy sauce powder

Sauce powder, HVP, pickle powder, yeast extract, meat extract, monosodium glutamate, I+G, Sodium succinate

Monosodium glutamate, I+G, HVP, chicken extract, yeast extract, shrimp and crab extract

Miso, soy sauce, seaweed extract, pork bone extract, shrimp and crab extract, seafood extract, vegetable extract

Differences in Taste Requirements

Mainly in soup noodle.

The mainstream products add monosodium glutamate and often match with I+G and YE to enhance the Xian/Umami taste.

At present, consumers' demand for soup base is getting higher and higher, and they require a more natural and gentle Xian/Umami taste. Non-MSG-added soup gradually became popular.

Less dosage of MSG.

Higher demand for rich Xian/Umami taste, so a variety of extracts are widely used.

Thermal reaction plays a vital role in the release of Xian/Umami taste.

The demand for Xian/Umami taste is similar to China.

Requires strong Xian/Umami taste.

Traditional miso and soy sauce flavor are the main flavor enhancers. Bone soup is used as the soup base. The taste is light, but the requirement of aftertaste and mouthfullness is high.

Use of Yeast Extract

1. YE is widely used as a primary raw material.

2. The effect of YE to enhance the lingering and round taste is accepted.

3. Use both YE and MSG to enhance the Xian/Umami taste is accepted.

4. It can be used in instant noodle seasoning without adding MSG.

1. Most of the YE is applied for pre-reaction products, and this reaction improves the meaty notes.

2. Enhance the Xian/Umami taste.

3. Enhance the thickness, fullness and overall mouthfeel of the soup base.

4. Enhance the flavor of noodle block.

1. Add monosodium glutamate to improve the overall taste in products.

2. Improve the lingering

taste.

3. Balance the Xian/Umami taste and salty taste to prolong the aftertaste.

1. Bring out the Xian/Umami taste in non-MSG-added products.

2. Enhance the thickness and mouth-filling in soup base.

3. Round up all flavors.

5. Application effects of Yeast Extract in instant noodles
1/ Enhance Xian/Umami taste in seasoning and noodle block.
Soup seasoning:
The market's understanding of taste is gradually changing. For soup flavor, it is no longer a pure pursuit of the direct impact of monosodium glutamate, but a full, round and good aftertaste experience. The yeast extract itself contains free amino acids, flavoring peptides and nucleotides which supplement the richness and well-rounded flavor of soup base.
Noodle block:
The method of adding seasoning ingredients directly into the noodles has been gradually applied, especially in Japanese and Korean instant noodles. Yeast extract not only improves the Xian/Umami taste of noodles, but also involves in the Maillard reaction during high-temperature cooking and frying, thus contributes to the further release of flavor.
2/ Improve the mouthfullness and richness in soup base.
Bringing out the stewed soup flavor and cooking sensation are the ultimate goal of convenient condiment packages. Take the stewed chicken soup for example, most of its Xian/Umami substances come from protein hydrolysis during the long-time boiling process, and the longer you boil the soup, the fuller, rounder and richer the mouthfeel it is because more flavor substances will be brought out. These flavor substances are hydrolyzed free amino acids, flavor peptide substances, sugar and so on. Yeast Extract itself contains an abundance of amino acids, peptides, nucleotides, etc. It has a noticeable effect on improving the thickness, mouth-filling and bringing out meaty notes in soup base.
3/ Coordinate and balance the overall taste.
Different free amino acids have different flavor effects. For example, glutamic acid gives delicious taste, while YE is a flavoring substance rich in a variety of free amino acids (accounts for more than 30% of YE). When adding YE into instant noodle condiments, it affects the overall taste effect of seasonings, making the flavor richer, and more complex while balancing the overall tastes.
4/ Application of YE in Non-MSG-Added products
Many MSG-free instant noodles are emerging on the market. Yeast Extract, as a natural Xian/Umami taste raw material, is widely used in such products to enhance the Xian/Umami taste level in soup.
5/ Assist instant noodles in reducing salt and sodium
Because of increased awareness and concern about the high sodium content in instant noodle. How to reduce the sodium salt without compromising the overall taste steps into the spotlight.
Yeast Extract, thanks to its rich components of free amino acids, and peptides, it works well in reducing salt and rounding up all flavorings in instant noodle packaging. Yeast Extract was found to affect the sodium sensation channel and enlarge the sensitivity of sodium in oral, thus decreasing the salt(sodium chloride) intake without compromising the salty taste. Also, it enhances the mouthfullness, roundness sensation, making up for the loss of Xian/ Umami taste due to salt reduction.
Beyond Salt Reduction, MSG Replacement, Yeast Extract also contributes to Clean Label, Vegan & Vegetarian. Find more applications here.
---
Published by Chris Guo

Senior Engineer of Angel Yeast Extract Division
---
References:
1. Instant Noodles at a Glance.World Instant Noodles Association.
---
About Angel Yeast Extract-Savoury:
Angel YE (yeast extract) made from edible yeast, by degradation the protein and nucleic acid in the yeast cells into nutritional seasonings with the application of modern biotechnology, has the advantages of increasing the fresh flavor, reducing salt, balancing the odor, strong tolerance and food properties, which promotes the global healthy operation of salt reduction and "clean label ".

About Angel:
Angel Yeast Company is a high-tech listed company specializing in yeast and biotech. Product business covers Yeast and Baking, Yeast Extract-Savoury, Nutrition & Health and Biotechnology fields. It is one of the world's leading companies in the yeast industry. Angel has 12 holding subsidiaries and provides products and services for more than 150 countries and regions.
http://en.angelyeast.com/

Press Contact:
ANGEL YEAST CO.,LTD
Address: 168 Chengdong Avenue, Yichang, Hubei 443003, P. R.China
Tel: +86-717-6369520, 6369558
Fax: +86-717-6370680
Email: aie@angelyeast.com

---
---