By Chris Guo
20 Oct, 2021
Background of the nut foods market
Nuts are rich in protein, vitamins, unsaturated fatty acids, and other nutrients, which are good for health. Different from puffed food, nut food is more nutritious and healthy. From 2014 to 2019, the CAGR of traditional snack food in the United States is about 3% - 4%, and the CAGR of better-for-you snacks is more than 10%, which is at least three times than that of traditional food. Consumers' increasing demands for healthy foods will continue to maintain strong momentum in the nut industry.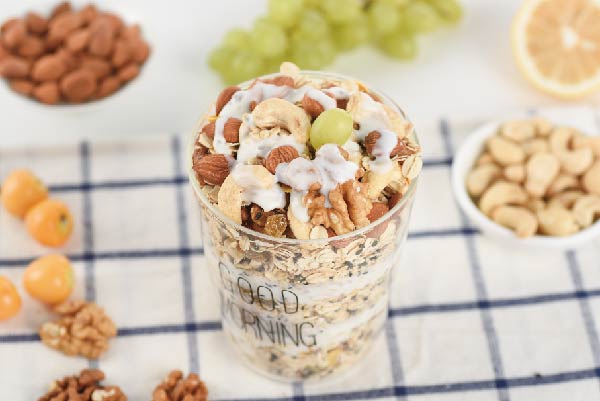 Consumers crave for clean label and flavor innovation
Flavor innovation is an inevitable trend in the development of snack foods. Novel taste can attract consumers to try, and there is no exception for nut products.
According to the global healthy diet report released by Nielsen, consumers pay more and more attention to the concept of health, and they begin to change their food consumption habits. The survey shows that "no artificial pigment" (49%) and "non genetically modified" (49%) are the most important attributes of healthy food, while "no artificial flavor" (48%), "purely natural" (45%) and "organic" (39%) are also key factors, and consumers are willing to pay a higher price for these claims.
Besides, more and more consumers take care on the ingredients list, and prefer using natural spices, natural sweeteners, natural pigments, and other raw materials for flavor nut products to avoid using food additives. In addition, consumers' demand for low salt, low sugar, and low-fat products is also increasing.
Upgrade nut foods taste with yeast extract
Yeast extract is a specialty food ingredient designed for taste innovation. It perfectly meets the requirements of snack foods enterprises that can boost the flavor innovation and upgrade of nut foods. Yeast extract is derived from baker's yeast, rich in natural flavor amino acids, nucleotides, and small peptides, and is classified into the food category. For manufacturers, adding yeast extract in nuts foods have below functions:
> Synergistic effects in enhancing Xianness/umami taste: Snack foods commonly have MSG and I+G, which are mainly used for umami enhacement. Yeast extract is rich in umami components. It can be used together with MSG and flavor enhancers in nut foods to enhance the umami taste more times.
> Clean label: Reducing the dosage of food additives is not only the demand of current consumers but also a method for manufacturers to upgrade their products. For example, the products marking " no added preservative, no added MSG, no chemical pigment" are clean label claims. Pistachio, Bigen, Padan, cashew nuts, are rich in protein, vitamins, unsaturated fatty acids, and other nutrients. Eating more is good for health. Therefore, consumers are willing to buy products developed with natural seasonings, while yeast extract is an ideal choice, it is a natural flavor substance with high umami components which can be used to replace MSG and develop "NO ADDED MSG" foods.
> High-temperature resistance: Yeast extract has characteristic of high temperatrture resistance during boiling and cooking. In the production of sunflower seeds and peanuts, MSG is easy to lose umami taste under high-temperature cooking, while Yeast Extract can generate umami taste when heated for a long time, and can improve the lingering taste of sunflower seeds and peanuts.
> Balanced the overall taste profile: Yeast extract is rich in free amino acids, small molecular peptides, and other substances. When it is used in nut foods, it can coor dinate the overall taste profile, increase the mouthfulness, especially in coordinating the salty and sweet taste and masking the bitterness.

Soaking Solution recipe

Ingredients

Dosage g

Ingredients

Dosage g

Black sugar

80

cyclamate

3

Sugar

70

Acesulfame-K

2

Salt

100

vanillin

1.5

Glucose

20

Cheese powder

5

1.5

Caramel cheese flavor

1.5

3

Water

1000
* Make sauces according to the recipe, ideal for nut seasoning

The salty and sweet taste is more harmonious, the Umami taste is mellow, and the overall taste is improved.
Application examples:(chicken flavor pisum)
Chicken flavor seasoning recipe:

Ingredients

Dosage g

Ingredients

Dosage g

Salt

48

Onion powder

3

Sugar

12

Chive powder

5

I+G

0.5

Garlic powder

1.5

Glucose

5

Ginger powder

1.5

MSG

15

Maltodextrin

4

Angearom-VTC232

2

White pepper powder

1

Angeoprime-KA66

2.5

Chicken flavor powder

0.5

Use 3% of the Chicken flavor seasoning in pisum and mix well.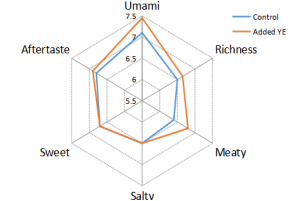 The chicken flavor is improved, and the overall taste is more richness. Discover more applications.
Published by Chris Guo

R&D expert of Protein Nutrition and Flavoring technology center
---
About Angel Yeast Extract-Savoury:
Angel YE (yeast extract) made from edible yeast, by degradation the protein and nucleic acid in the yeast cells into nutritional seasonings with the application of modern biotechnology, has the advantages of increasing the fresh flavor, reducing salt, balancing the odor, strong tolerance and food properties, which promotes the global healthy operation of salt reduction and "clean label ".
About Angel:
Angel Yeast Company is a high-tech listed company specializing in yeast and biotech. Product business covers Yeast and Baking, Yeast Extract-Savoury, Nutrition & Health and Biotechnology fields. It is one of the world's leading companies in the yeast industry. Angel has 12 holding subsidiaries and provides products and services for more than 150 countries and regions.
http://en.angelyeast.com
Press Contact:
ANGEL YEAST CO.,LTD
Address: 168 Chengdong Avenue, Yichang, Hubei 443003, P. R.China
Tel: +86-717-6369520, 6369558
Fax: +86-717-6370680
Email: yefood@angelyeast.com