Yeast Extract: a plant-based meat alternative
Plant-based meat alternatives present new yeast extract opportunity, claims industry body chief
Growing product development within the meat alternative and vegan/plant-based space is creating a new opportunity for yeast extracts to offer a savory flavor and clean label edge. Ongoing industry trends towards sodium and sugar reduction, coupled with an overarching theme towards sustainability are creating further opportunity for ingredients that are enjoying renewed potential amid the fermented foods revival. This is according to Gerard Hardeman, President of EURASYP (European Association for Specialty Yeast Products), whose daily role is Business Unit Director.
In a detailed interview with FoodIngredientsFirst, Hardeman explains that the market for yeast extracts is growing at 3-4 percent, spurred by clean label & health trends in developed markets and a strong demand for processed food in developing regions.
Gerard Hardeman, President of EURASYP
"
Growth is down to two reasons" Hardeman explains. "The first is that in emerging markets, more and more processed food is being produced.
Yeast extract
is a very versatile ingredient for savory foods and appearing in all sorts of applications. Secondly, if we look to the established markets of western Europe and the US, but also developed Asian markets and Australia, we see that yeast extract is being used to go in line with the health trends in the market. The rise of
natural ingredients
and clean label, means that yeast extracts are being increasingly used for those types of applications too."
Yeast extract has a strong taste of its own, and only a small amount is needed to produce flavorful results. It, therefore, represents less than 1 percent of most dishes. Many fresh products – such as tomatoes, peas and mushrooms – naturally contain glutamate. Our body also produces glutamate, regardless of the food we consume. Indeed, it is naturally present in saliva and breast milk. It is also one of the many natural components of yeast extract, in a concentration roughly equivalent to 5 percent. Yeast extract is regularly mistaken for monosodium glutamate (MSG), a flavor enhancer that is 100 percent glutamate salt, the group stresses. Unlike yeast extract, MSG does not have a flavor of its own and only serves to make existing flavors stronger. According to the requirements of the European Food Law, yeast extract is labeled as either "yeast extract" or "natural flavor"; on the ingredients list of a product.
In terms of applications for yeast extract, Hardeman notes continued interest in the sodium reduction space. "Over the last years, we have seen a very strong trend in both established and emerging markets, where salt is being taken out of savory foods. Yeast extract is a very versatile ingredient for bringing back the full taste of salt. Salt may be the cheapest taste ingredient in the savory food sector, but by adding yeast extracts instead of salt, you can bring back the full body and original taste economically" he notes.
Global meat alternatives have moved far beyond the niche vegetarian and vegan domain to encompass a much broader base of flexitarians and reducetarians, as industry's capabilities to replicate real meat improve. According to data from Innova Market Insights, meat substitutes accounted for 11 percent of new product launches in the meat, poultry and meat substitutes category reported in Europe in 2018 (Jan-Sep), up from 9 percent in 2013. The global picture shows stronger growth still, with 14 percent of meat launches in the first nine months of 2018 being meat alternatives. This compares with 6 percent in 2013.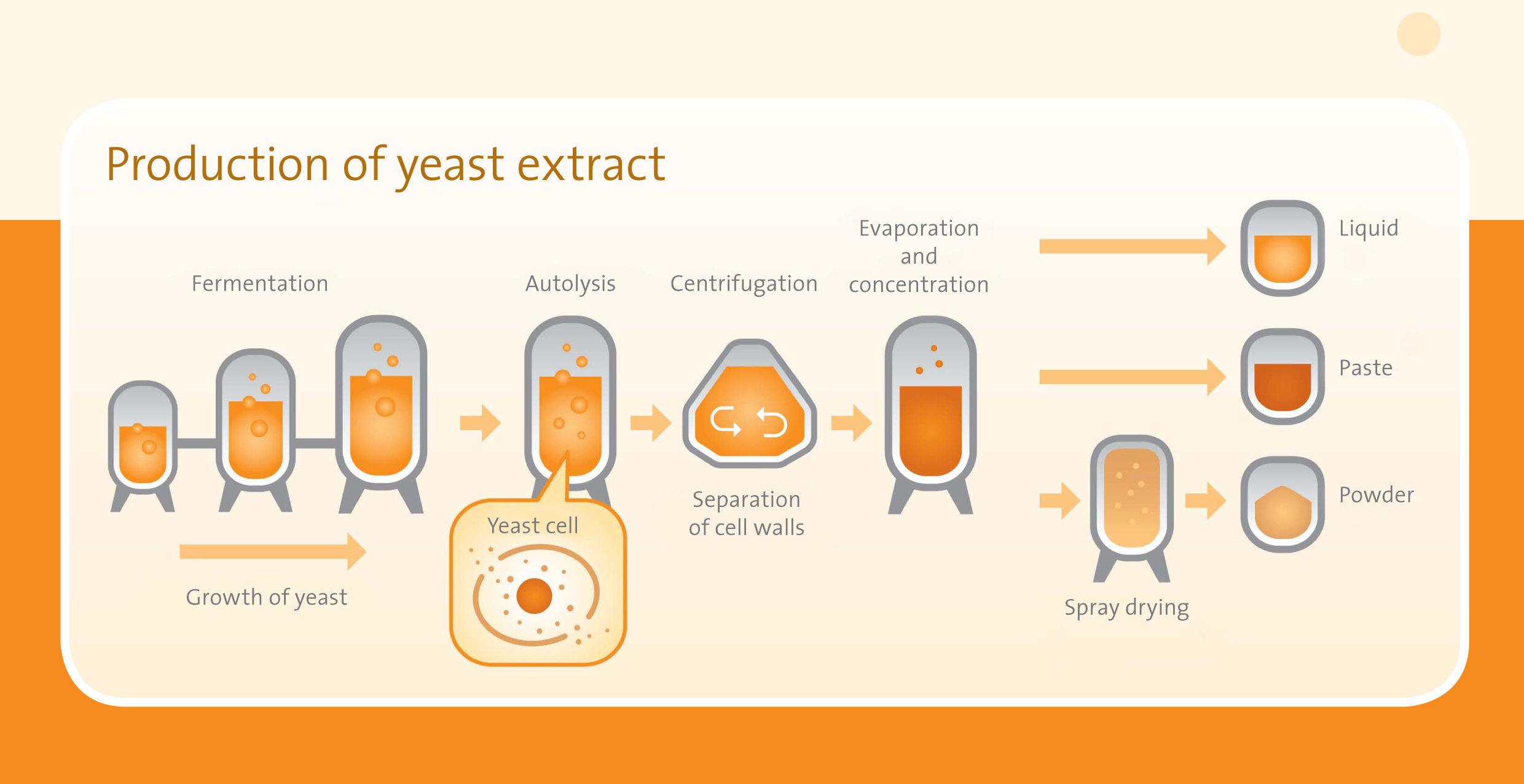 Production of yeast extract
This is creating new opportunities for yeast extract too. "If you look to newer applications, we need to mention vegan and meatless food, where yeast extract is being strongly used to bring back a meaty taste in those type of applications. That is one of the strong newer growth markets for yeast extracts," he notes.
Industry trend spotters have spoken of a fermented foods revival, where ingredients such as sourdough and products such as kombucha have thrived. Yeast extract also fits squarely within this domain. Yeast extract is essentially a natural ingredient that is made from the very same yeast used to make bread, beer and wine.
"If you go back to the origin of yeast extracts, based on yeast which is in itself is a very old ingredient, it is basically produced by breaking down the long protein chains into small protein parts, which are soluble. That's a lot like making meat stock, where you simmer a piece of meat in water and keep that for a long time. The same process is happening, where we mimic that process of making stock when we produce yeast extract to get that meaty taste. Yeast extract is not only about savory taste, it's a combination of proteins but also has a strong meaty taste, which can be brought into meatless applications,"says Hardeman.
Hardeman stresses that sugar reduction success with this non-obvious ingredient is not easy to achieve due to its strong and savory taste. "You need to be very careful that you don't bring (a) meaty taste into the sugar application. But because of its nature, where it brings a lot of taste and rounds off in a lot of applications, that could help in the same way a bit like salt reduction. When you bring back some yeast extract into the formulation, it makes the taste fuller and linger for longer," he explains.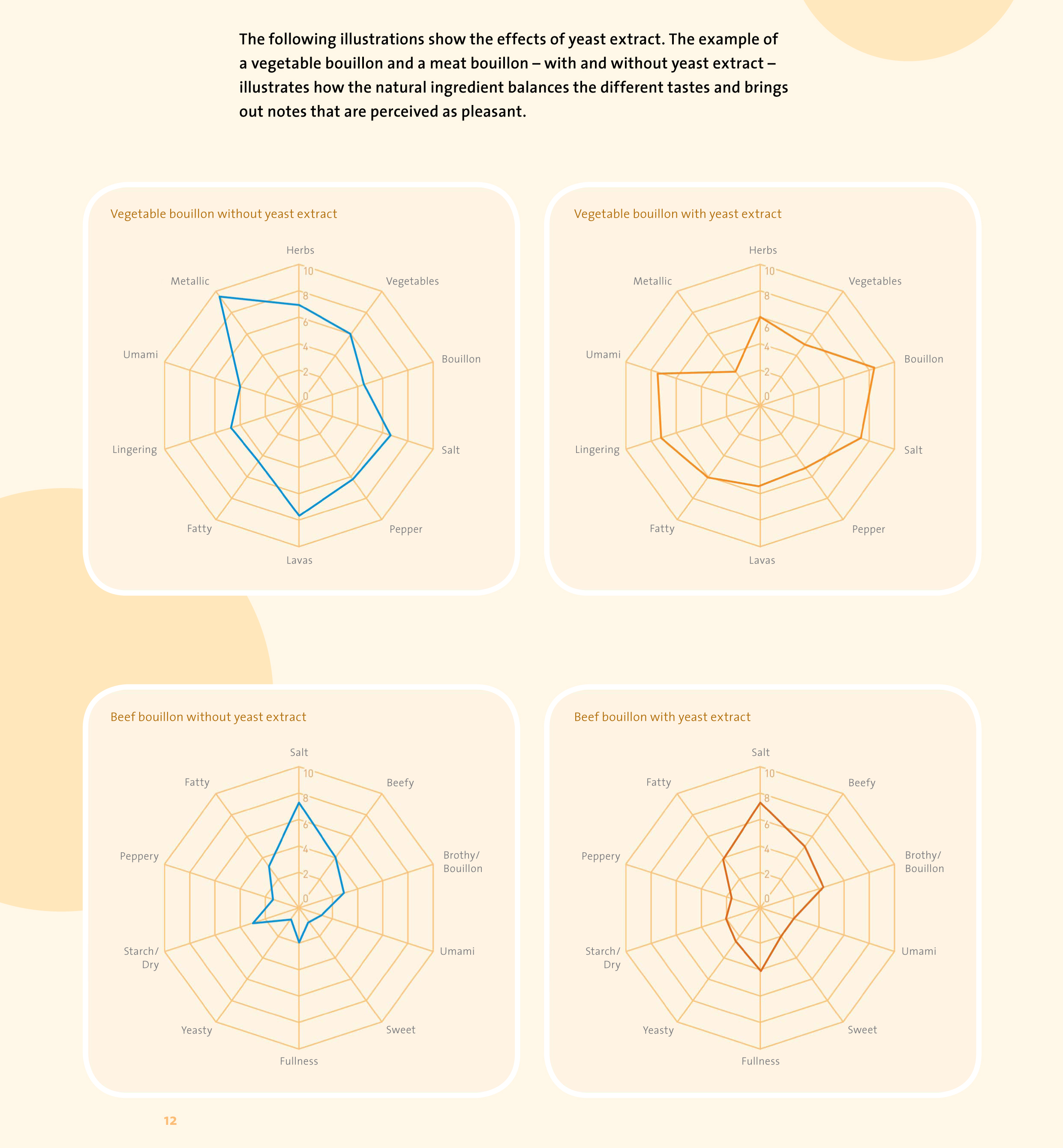 Yeast extract effects
In salt reduction, yeast extract is a highly versatile ingredient, but in sugar, it needs to be carefully formulated. "Yeast extract helps a lot to bring back the full taste. An additional feature is that it sometimes masks off tastes and in that respect, it can also help in a sugar reduced applications. When you have some metallic, off-taste from reducing ingredients, it helps to round it off and bring back the full body," he adds.
If you look to the industry in general, yeast extract is increasingly being used because of its natural basic origin. "The industry has been working hard to try to clean up the labels and remove chemical ingredients. There is also a strong tendency to reducing the E-numbers on labels and therefore yeast extracts have been used much more as a natural alternative over the last years," Hardeman notes.
Sustainability will also be in the future a key platform for differentiation for an ingredient that originates from traditional waste biomass, which is then converted into a usable substance.
"If you look to the circular economy, we mainly use a sugar production cane waste stream to grow our yeast. From that respect, there is no substantial resource demand, because we grow the yeast from a small amount into a big volume. That is a very sustainable process," says Hardeman. "We don't need any raw material apart from the remainder of sugar production which we use to start growing our yeast. From that respect, if you compare it to stock made of real meat, the big difference is that we grow our basic resource (yeast), a lot more sustainably than producing stock based on real meat. I must say that up until now, as an association, we have not used that argument a lot, but going forward, this argument will become very important," he notes.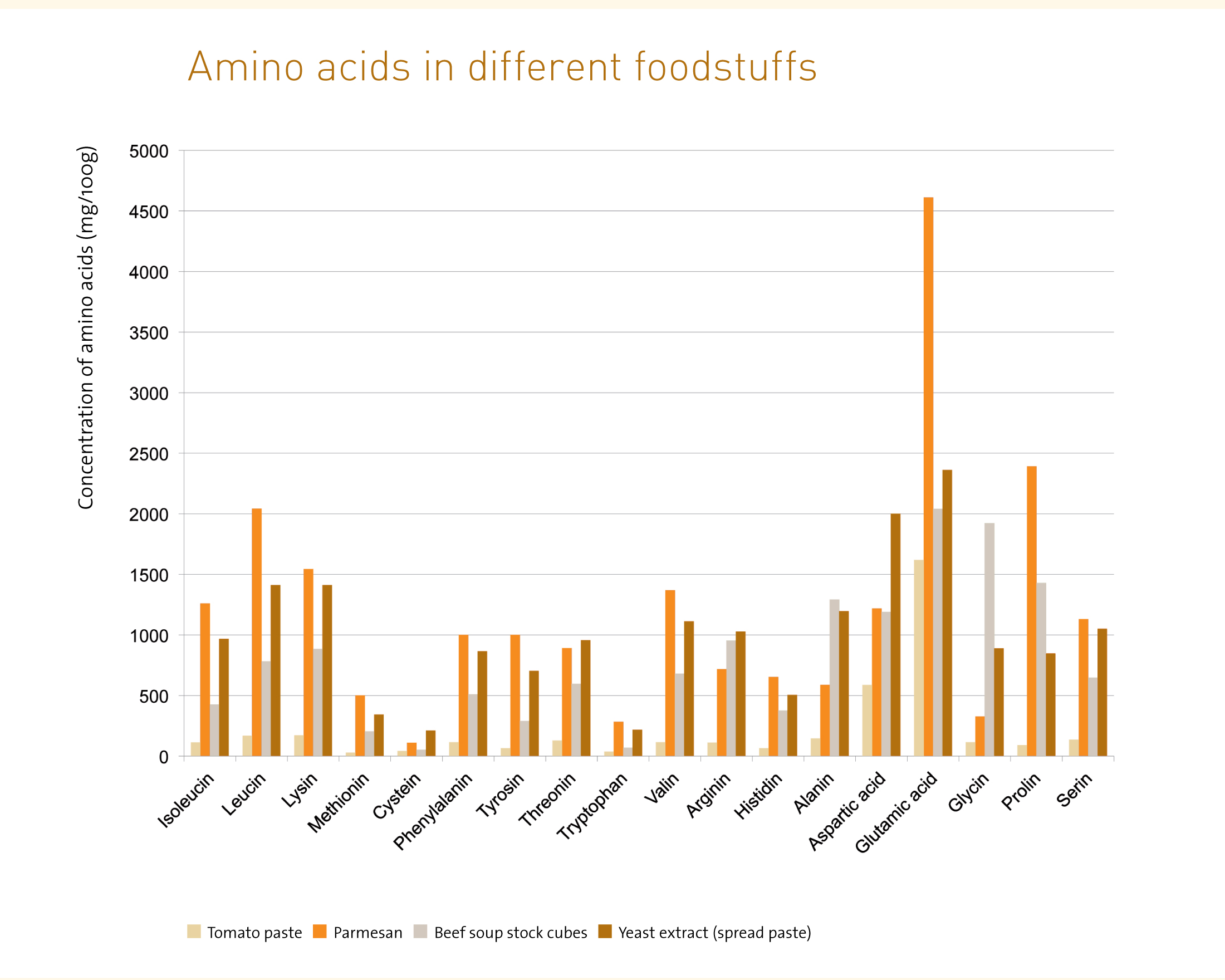 Amino acids in different foodstuffs
EURASYP is the abbreviation for the European Association for Specialty Yeast Products, which represents the political and economic interests of its members. One of the association's main goals is to disseminate information to the public, to strengthen awareness of specialty yeast products – including yeast extract – as an ingredient in a wide variety of products and dishes.
"What we are mostly working on is communicating as clearly as possible around yeast extracts. We make brochures, develop websites, in which we explain to consumers and customers how yeast extract is made, it's application and versatility. But also we try to elaborate simply on why yeast extract is healthy and good. It is rich in proteins and vitamins, with taste molecules that give it its strong taste. We also try to answer questions and show different applications where it is being applied to give a wide overview of how versatile it is," he explains.
Hardeman concludes with a confident pitch for the future of his sector. "We foresee that the industry will grow in the coming years, where we as an industry will increasingly communicate about yeast extract's natural origin and versatility. When you look to the notion of a circular economy it will be certainly an ingredient that will increasingly be used," he adds.
An age-old ingredient is enjoying a true revival amid a fermented foods boom, but the ingredient itself holds new potential amid tomorrow's circular economy where plant-based foods and their origin offers a marketing advantage.
By Robin Wyers & Kristiana Lalou
From Foodingredientsfirst
---
---