Angel Animal Nutrition will meet you at Poultry India 2019
November 12th, 2019
Angel Animal Nutrition will be featured at a new location and will have a new booth this year at Poultry India 2019. Come to learn about the new products and solutions we are developing in helping animals perform at their best.
Poultry India 2019 will be held at Hitex Exhibition Complex in Hyderabad, from November 27th to 29th, 2019. Angel's booth number is Z23 and Z24 in Hall 5. You are invited to go to India to talk with us about the development of the industry. More information will follow on the products going to the show!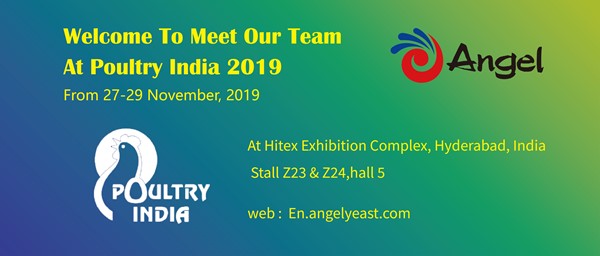 ---
About Fubon Animal Nutrition:
Fubon is a brand of Angel Animal Nutrition. Fubon is committed to developing natural, efficient microbial feed derived from the yeast with Angel's leading technology in yeast industry, providing the best service solutions for the nutrition and health in animals. Angel Animal Nutrition creates value for global feed and animal agriculture customers through continuously upgraded products and professional services.
About Angel:
Angel Yeast Company is a high-tech listed company specializing in yeast and biotech. Product business covers Yeast and Baking, Yeast Extract-Savoury, Nutrition & Health and Biotechnology fields. It is one of the world's leading companies in the yeast industry. Angel has 12 holding subsidiaries and provides products and services for more than 150 countries and regions.
Press contact:
ANGEL YEAST CO., LTD
Address: 168 Chengdong Avenue, Yichang, Hubei 443003, P. R.China
Tel: +86-717-6369520, 6369558
Fax: +86-717-6370680
email: aie@angelyeast.com
Related tags:
poultry-india poultry broiler
---
---