May 24, 2021
From 18 to 20 May 2021, the International Specialized Trade Fair of Technology for Animal & Forage Production – AGROS has been held in Moscow, at the Crocus Expo IEC. Organized by DLG (German Agricultural Society), AGROS is the only professional exhibition for the livestock industry in Russia. Angel Russian Division and its local distributors Lafeed LLC participated in the event jointly.
In 2020, the livestock industry in Russia is showing positive results. The production of livestock and poultry for slaughter (live weight) in 2020 is estimated to reach 15. 6 million tonnes, an increase of 3. 2% compared to 2019. In particular, swine production increased by 9. 1% to 5. 5 million tonnes, cattle production increased by 0.2% to 2. 8 million tonnes, and poultry production increased by 0.4% to 6. 7 million tonnes. Milk production is expected to grow by 2. 5% to 32. 1 million tonnes, and eggs by 0.4% to 45. 1 billion ones.
In the past two years, Angel's animal nutrition business had rapid growth in Russia. During the exhibition, Angel's Vinasse and YeaVita R are welcomed by the attendees, which are mainly used to improve feed palatability, carcass quality, and milk yield of beef cattle.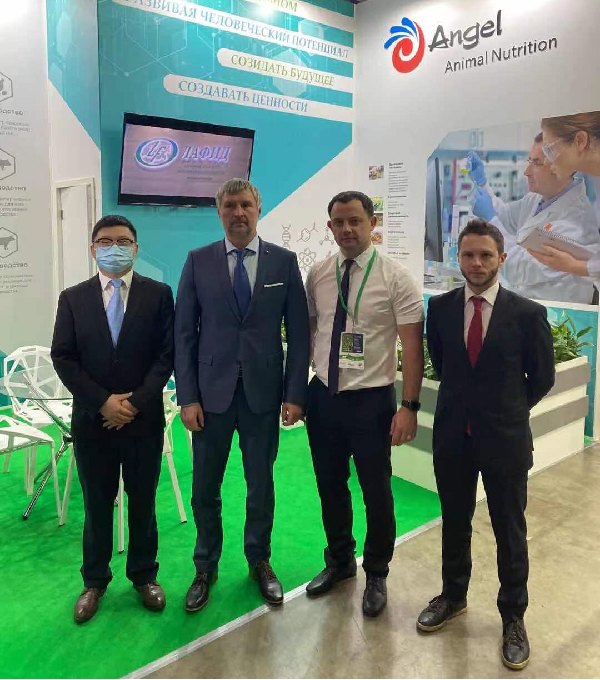 ---
About Fubon Animal Nutrition:
Fubon is a brand of Angel Animal Nutrition. Fubon is committed to developing natural, efficient microbial feed derived from the yeast with Angel's leading technology in yeast industry, providing the best service solutions for the nutrition and health in animals. Angel Animal Nutrition creates value for global feed and animal agriculture customers through continuously upgraded products and professional services.
About Angel:
Angel Yeast Company is a high-tech listed company specializing in yeast and biotech. Product business covers Yeast and Baking, Yeast Extract-Savoury, Nutrition & Health and Biotechnology fields. It is one of the world's leading companies in the yeast industry. Angel has 12 holding subsidiaries and provides products and services for more than 150 countries and regions.
Press contact:
ANGEL YEAST CO., LTD
Address: 168 Chengdong Avenue, Yichang, Hubei 443003, P. R.China
Tel: +86-717-6369520, 6369558
Fax: +86-717-6370680
email: angelan@angelyeast.com