Animal Nutrition attended EuroTier 2018 in Germany
November 17th, 2018
From November 13th to 16th, an international large-scale animal husbandry exhibition EuroTier held in Hanover, Germany. Animal Nutrition Department participated in the show with a 40-square-meter booth.
Wu Zhaohui, deputy general manager of Angel Yeast, and Zuo Jiahua, deputy general manager of Animal Nutrition, led the Fubon team to participate in the event.
Subdivision of
GroPro
product brands is one of the most important initiatives of international brand promotion this year. With the help of this exhibition's influence in Europe and the world, the theme of the show is the nutrition and health of young animals, which has promoted the image of Fubon and GroPro brand experts. The solutions in various fields of GroPro have also been widely recognized by international users.
The international business team of Animal Nutrition Department has responded positively to the negative impact of the global trade situation. Since October, it has participated in four international exhibitions in Egypt, Russia, and other places, and insisted on "sales+technical" service mode to find opportunities and breakthroughs in the global market. At the end of the year, the Department of Animal Nutrition will also go to South Asia and North America markets to continue to expand its leading edge.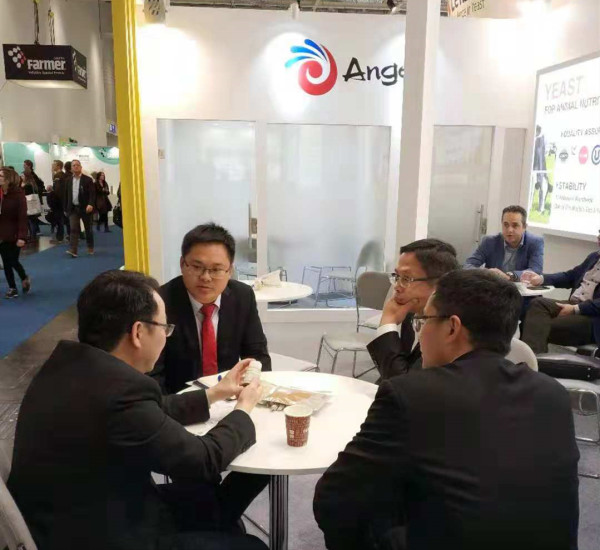 Photo: Wu Zhaohui, deputy general manager of Angel Yeast, is communicating with customers.
About Fubon Animal Nutrition:
Fubon is a brand of Angel Animal Nutrition. Fubon is committed to developing natural, efficient microbial feed derived from the yeast with Angel's leading technology in yeast industry, providing the best service solutions for the nutrition and health in animals. Angel Animal Nutrition creates value for global feed and animal agriculture customers through continuously upgraded products and professional services.
About Angel:
Angel Yeast Company is a high-tech listed company specializing in yeast and biotech. Product business covers Yeast and Baking, Yeast Extract-Savoury, Nutrition & Health and Biotechnology fields. It is one of the world's leading companies in the yeast industry. Angel has 12 holding subsidiaries and provides products and services for more than 150 countries and regions.
Press contact:
ANGEL YEAST CO., LTD
Address: 168 Chengdong Avenue, Yichang, Hubei 443003, P. R.China
Tel: +86-717-6369520, 6369558
Fax: +86-717-6370680
email: aie@angelyeast.com
---
---