Clients from Ukraine exchange animal nutrition products at Yichang headquarter
October 21st, 2019

By Xiangqian Xiao
On October 17th, a group of 10 Ukrainian livestock and poultry clients visited Yichang headquarter of Angel Yeast.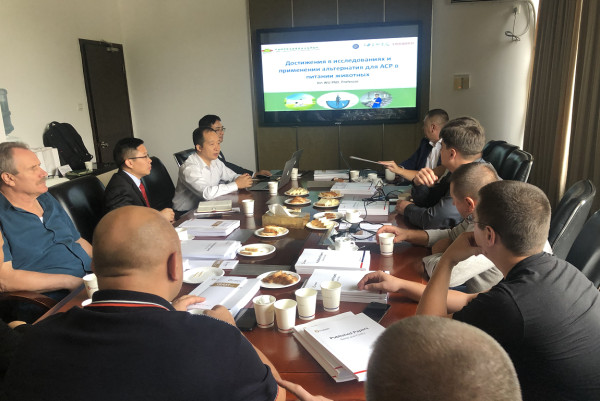 They visited the headquarters office building, the production department, testing center and other places, and deeply understood the development process of Angel Yeast and Animal Nutrition Department. During the visit, the technical manager of Animal Nutrition presented the application scheme of YeaMOS, YeaSel, GroPro and other products to customers in detail. Meanwhile, Dr. Wu Xin who is a member of academician team of Yin Yulong was invited to participate in the non antibiotic feed theme exchange. After the exchange activities, Ukrainian customers also marveled at the development speed of China and the strength of Angel Yeast's R & D and manufacturing.
---
About Fubon Animal Nutrition:
Fubon is a brand of Angel Animal Nutrition. Fubon is committed to developing natural, efficient microbial feed derived from the yeast with Angel's leading technology in yeast industry, providing the best service solutions for the nutrition and health in animals. Angel Animal Nutrition creates value for global feed and animal agriculture customers through continuously upgraded products and professional services.
About Angel:
Angel Yeast Company is a high-tech listed company specializing in yeast and biotech. Product business covers Yeast and Baking, Yeast Extract-Savoury, Nutrition & Health and Biotechnology fields. It is one of the world's leading companies in the yeast industry. Angel has 12 holding subsidiaries and provides products and services for more than 150 countries and regions.
Press contact:
ANGEL YEAST CO., LTD
Address: 168 Chengdong Avenue, Yichang, Hubei 443003, P. R.China
Tel: +86-717-6369520, 6369558
Fax: +86-717-6370680
email: aie@angelyeast.com
Related tags:
conference exchange
---
---