Angel in 2018 International Forum on Food Safety and Health
April 23rd
By C.yp
2018 international forum on food safety and health was held on 19th, April in Beijing, attracting over 90 international well-known experts from more than 20 countries and regions. Yu Xuefeng, president of Angel Yeast Company also attended this forum and gave a speech about the responsibility of entrepreneurs and experience of Angel's sustainable and healthy development.
He said: "the primary responsibility for entrepreneur is to ensure the sustainable and healthy development of enterprise. Angel is a company bases on biotechnology to provide high-quality products and satisfying solutions. Focusing on solving problems about food safety and health, Angel always dedicates to promoting the development of the industry, with the great mission of "focus on biotechnology, innovate for healthy life.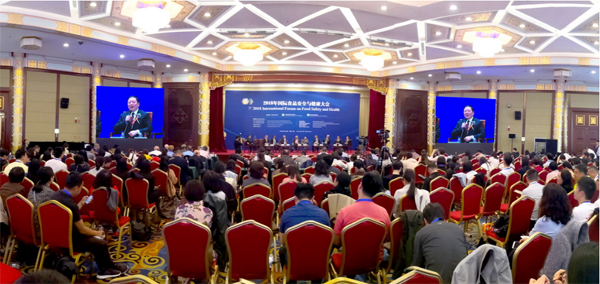 After years of efforts, Angel, now has entered a high-quality developing stage with all economic indicators growing in a high speed for years. Focusing on food safety and health is basic approach for Angel to achieve sustainable and healthy development. That's also the main experience I want to share with you."
On the forum, Zhan Yan, technical director of Angel's Human Health Division gave a report about "the successful practice of yeast extract in low sodium salt, and introduced the mysterious effect of yeast nutrition and yeast extract's function of reducing salt and enhancing flavor.
Recently, the Nutrition and Health Station of Chinese Center For Disease Control and Prevention firstly published "Salt Reduction Guide for Chinese Food Industry" and posted that national average salt intake will reduce 20 percent by 2030, which provides a favorable chance for yeast extract.
Angel Yeast Company is a high-tech listed company specializing in yeast and biotech. Product business covers Yeast and Baking, Yeast Extract-Savoury, Nutrition & Health and Biotechnology fields. It is one of the world's leading companies in the yeast industry. Angel has 12 holding subsidiaries and provides products and services for more than 150 countries and regions.
Address: 168 Chengdong Avenue, Yichang, Hubei 443003, P. R.China
Tel: +86-717-6369520, 6369558
email: aie@angelyeast.com
---
---