President Yu share experience at Tsinghua University
January 26th
By Cyp
Recently, the president of Angel Company, Yu Xuefeng was invited by Tsinghua University to share Angel's experience of human resource management in the progress of promoting international development, to more than 200 experts and scholars from universities throughout the country.
On the subject of "Treating key employees as collaborators", Yu introduced the experience of how to promote Angel, relying on key employees, to become a famous international brand and Asia first, world's third largest yeast company. Yu primarily introduced Angel's development history of 31 years, focusing on yeast technology and development of its application area, especially about how has Angel guided the development of China's modern yeast industry and become the world's leading yeast enterprise by scientific and technological progress.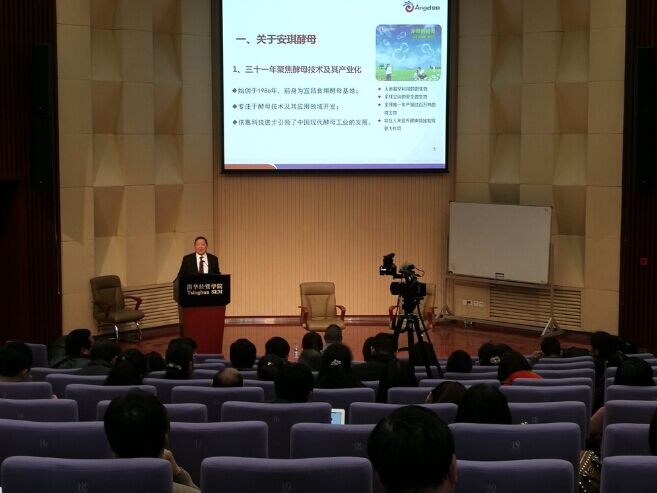 Yu also introduced that the average work seniorities of Angel's key employees have reached 10 years, 10% of whom more than 20 years and the longest is 31 years. It also has to mention that, more than 70% of key employees have been working in Angel Company since their graduation. The annual employee turnover rate is under 5%. For the key employees, the rate is under 1%. These data really made the audience impressed.
"Some key employees of Angel have now become influential experts in some industries" said Yu, "Angel treats key employee as collaborators, creating common goals, sharing valuable information to them, mobilizing all the creativity that can be mobilized through friendly mechanism.
This is the second time that Mr. Yu gave such a speech on the platform of China's top universities. The first one is at Beijing University, June 17th, 2017. It is reported that Tsinghua University, Peking University and WuHan University will recommend Angel's case to Harvard Business School and other internationally renowned colleges and universities.
Angel Yeast Company is a high-tech listed company specializing in yeast and biotech. Product business covers Yeast and Baking, Yeast Extract-Savoury, Nutrition & Health and Biotechnology fields. It is one of the world's leading companies in the yeast industry. Angel has 12 holding subsidiaries and provides products and services for more than 150 countries and regions.
Address: 168 Chengdong Avenue, Yichang, Hubei 443003, P. R.China
Tel: +86-717-6369520, 6369558
email: aie@angelyeast.com
---
---