Angel attend the 34th International Fuel Ethanol Workshop&EXPO
June 28, 2018
By Paul Ren
As the world's largest ethanolevent, the 34th annual FEW was held during June 11-13, 2018 at CenturyLinkCenter, Omaha, Nebraska, USA. The exhibition brought together more than 2000attendees, include the well-known yeast and enzymes suppliers, equipmentmanufacturers and related technical experts from the global fuel ethanolindustry, such as Lallemand, Leaf, Novozymes, DuPont, DSM,, and BASF.etc whichof all bring the latest research progress to this exhibition.
Angel biofuels and distilling spirit division launcheda series of new products and research & development achievements such asspecial yeast and nutrients for high gravity fermentation. These new productsattracted many ethanol producers and distributors which are from USA, India,and Poland etc, came to Angel's stand to negotiate by the virtue of theircharacteristics such as "higher alcohol tolerance, ultimate fermentation", andit will further enhance the visibility and influence of Angel's reputation in theworld fuel ethanol industry.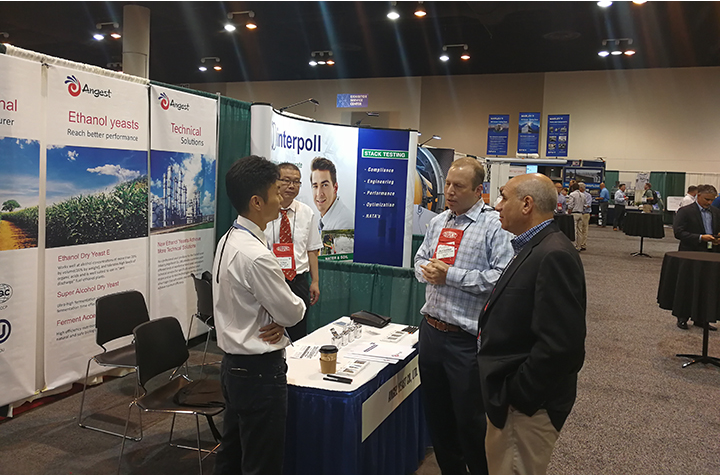 Angel can provide brewing yeasts, ingredients and related technical services for the production of wine, beer, and other brewing liquor. All our products are natural, safe, and of high quality. With the current energy shortages around the world, the production of fuel ethanol through yeast fermentation has become an inevitable trend.
Angel Yeast Company is a high-tech listed company specializing in yeast and biotech. Product business covers Yeast and Baking, Yeast Extract-Savoury, Nutrition & Health and Biotechnology fields. It is one of the world's leading companies in the yeast industry. Angel has 12 holding subsidiaries and provides products and services for more than 150 countries and regions.
Related tags:
fuel-ethanol-yeast distillery-yeast high-gravity-fermentation
---
---