Angel Distilled spirits and Biofuels attended the 4th Beviale Moscow2019
Feb.25,2019
by Lapin
Angel Distilled spirits and Biofuels attended the 4th Beviale Moscow 2019
The 4th Beviale Moscow Expo was held in Moscow Crocus exhibition center on February 19, 2019. Angel Distilled spirits and Biofuels division participated in the expo.
Angel Distilled spirits and Biofuels bring the beer series yeast and home brewing small packaging at the exhibition, new yeast strains such as beer yeast WA18 have become the focus of this year's exhibition promotion, and product packaging upgrades appear more specialized. According to the demand of the Russian home brewing market, we launched the small-package yeast products in the expo, attracted the enthusiastic attention of the vistors.
Angel Yeast brewing yeast is becoming more and more popular in the Russian market, especially in the home brew market. Near hundred users and companies from all over Russia came to Angel's exhibition to consult products and discuss cooperation. The upgrade of the Russian market brewing product portfolio has injected more vitality into the market and provided more choices for Russian customers.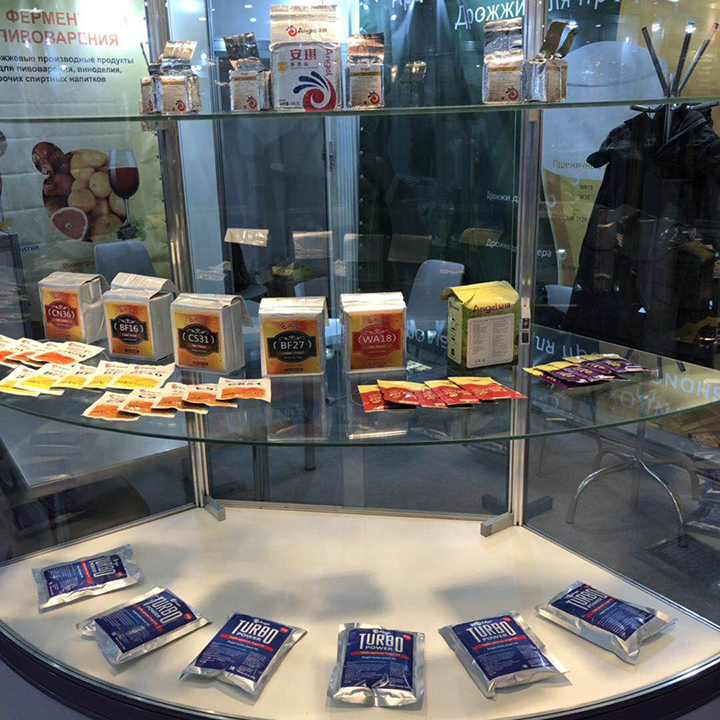 About Distilled Spirits and Biofuels Division:
Angel can provide brewing yeasts, ingredients and related technical services for the production of wine, beer, and other brewing liquor. All our products are natural, safe, and of high quality. With the current energy shortages around the world, the production of fuel ethanol through yeast fermentation has become an inevitable trend.
About Angel:
Angel Yeast Company is a high-tech listed company specializing in yeast and biotech. Product business covers Yeast and Baking, Yeast Extract-Savoury, Nutrition & Health and Biotechnology fields. It is one of the world's leading companies in the yeast industry. Angel has 12 holding subsidiaries and provides products and services for more than 150 countries and regions.
For more media information, please contact:
Angel Yeast Co., Ltd.
Yichang, Hubei, China
Ryan Wu
Tel.: +86 717 6353619
Email: wusy@angelyeast.com
en.angelyeast.com
Related tags:
wheat-beer-yeas russian-beer-yeast brewer-yeast
---
---