US craft beer grew 4% in 2019 – but 2020 will be a difficult year
May 25, 2020

By New School
The Brewers Association (BA) has released their 2019 industry growth report that shows slowing growth for the craft beer industry…but growth nonetheless. In 2019, small and independent brewers collectively produced 26.3 million barrels of beer and realized just under 4% total growth3, increasing craft's overall beer market share by volume to 13.6%. This will probably be the final positive growth report as 2020 will surely reflect the economic impacts of COVID-19.
There were 8,275 craft breweries operating in 2019, including 2,058 microbreweries, 3,011 brewpubs, 2,966 taproom breweries, and 240 regional craft breweries. Throughout the year, there were 942 new brewery openings and 294 closings.
"Although craft brewers entered 2020 on a solid foundation, the beer landscape is dramatically different today than it was just a few months ago. Breweries will be facing new realities due to the pandemic with extended closures, tight cash flow, societal shifts, and other economic variables in play. These 2019 figures will allow us to see how much COVID-19 affects small brewer production and jobs." added Watson.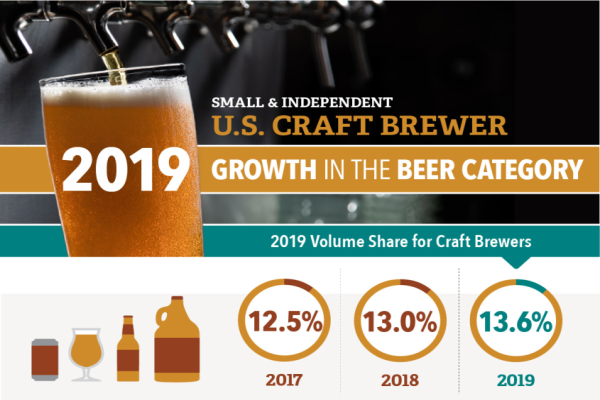 ---
About Distilled Spirits and Biofuels Division:

Angel can provide brewing yeasts, ingredients and related technical services for the production of wine, beer, and other brewing liquor. All our products are natural, safe, and of high quality. With the current energy shortages around the world, the production of fuel ethanol through yeast fermentation has become an inevitable trend.
About Angel:
Angel Yeast Company is a high-tech listed company specializing in yeast and biotech. Product business covers Yeast and Baking, Yeast Extract-Savoury, Nutrition & Health and Biotechnology fields. It is one of the world's leading companies in the yeast industry. Angel has 12 holding subsidiaries and provides products and services for more than 150 countries and regions.
For more media information, please contact:
Angel Yeast Co., Ltd.
Yichang, Hubei, China
Ryan Wu
Tel.: +86 717 6353619
Email: wusy@angelyeast.com
en.angelyeast.com
Related tags:
craft-beer breweries-yeast microbreweries
---
---