Angel Special Enzyme Division attend Chinese Enzyme Engineering Symposium
August 20,2019
By Lily
On August 8-11, 2019, the 12th Chinese Enzyme Engineering Symposium sponsored by Enzyme Engineering Committee of Chinese Society for Microbiology was held in Changchun, Jilin Province. Angel Special Enzyme Division and Microbial Nutrition Division both were invited to attend.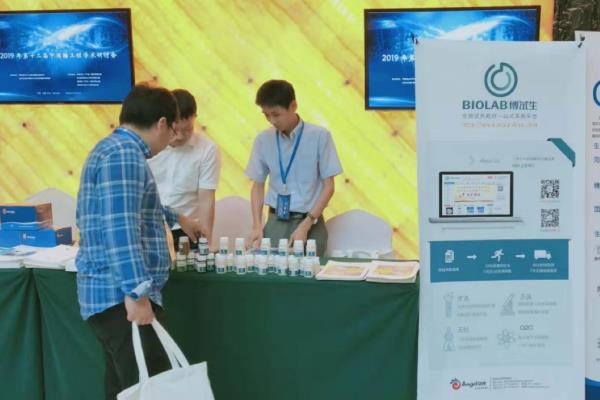 During the seminar, the Institute of Special Enzymes Division has exchanged technology and explored more cooperation points with experts from Tianjin Institute of Industrial Biotechnology, Institute of Microbiology, Jiangnan University, Jilin University, South China University of Technology and other universities.
Meanwhile,the Microbial Nutrition industry has actively promoted BIOLAB online platform to research institutes,and displayed organic nitrogen source products such as yeast peptone, yeast extract powder and paste, which attracted the attention of participants.
Through the seminar, the influence of ANNZYME's brand has been further enhanced in enzyme industry and the image of angel yeast as an expert has been further established in the biotechnology industry.
About AnnzymeTM:
Annzyme is a new brand for Angel enzymes products. We are dedicated to providing customers with perfect solutions in many fields like baking, proteolysis, nucleic acid hydrolysis, starch further-processing etc, and already built highly automated production lines for enzymes and other biological products. We are committed to become the best enzymes supplier and service provider.
About Angel :
Angel Yeast Company is a high-tech listed company specializing in yeast and biotech. Product business covers Yeast and Baking, Yeast Extract-Savoury, Nutrition & Health and Biotechnology fields. It is one of the world's leading companies in the yeast industry. Angel has 12 holding subsidiaries and provides products and services for more than 150 countries and regions.
Press contact:
ANGEL YEAST CO.,LTD
Address: 168 Chengdong Avenue, Yichang, Hubei 443003, P. R.China
Tel: +86-717-6369520, 6369558
Fax: +86-717-6370680
email: aie@angelyeast.com
Related tags:
---
---