Annzyme Shows at Feed Industry Exhibition 2019
April 28th, 2019
By Wang Danni
From April 18 to 20, the China Feed Industry Exhibition 2019 successfully held in Nanning, Guangxi. As the first brand exhibition with the largest scale, the highest grade, the most popular and the strongest influence in the domestic feed industry, the feed industry exhibition 2019 attracted many well-known enterprises in the feed industry to participate the show. Yao Juan, Director of R&D Center and General Manager of Special Enzyme Division, led the Special Enzyme Team to participate the exhibition.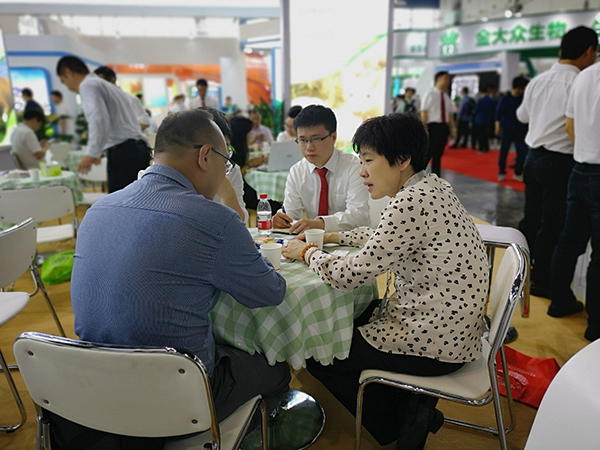 At the opening ceremony of the exhibition, the China Feed Industry Association awarded the honor of 2018 "The Belt and Road" international cooperation advanced feed enterprise. Angel Yeast has contributed to the healthy development of feed industry for many years.
Angel Special Enzyme Division focuses on improving the utilization of animal and plant protein raw materials, and brings the enzymes and solutions for the processing of pet palatability, fermented soybean meal, fish and the processing of shrimp protein to the exhibition. It helps to enhance the content of small peptide, solubility and palatability to add value to the final products for customers.
About AnnzymeTM:
Annzyme is a new brand for Angel enzymes products. We are dedicated to providing customers with perfect solutions in many fields like baking, proteolysis, nucleic acid hydrolysis, starch further-processing etc, and already built highly automated production lines for enzymes and other biological products. We are committed to become the best enzymes supplier and service provider.
About Angel :
Angel Yeast Company is a high-tech listed company specializing in yeast and biotech. Product business covers Yeast and Baking, Yeast Extract-Savoury, Nutrition & Health and Biotechnology fields. It is one of the world's leading companies in the yeast industry. Angel has 12 holding subsidiaries and provides products and services for more than 150 countries and regions.
Press contact:
ANGEL YEAST CO.,LTD
Address: 168 Chengdong Avenue, Yichang, Hubei 443003, P. R.China
Tel: +86-717-6369520, 6369558
Fax: +86-717-6370680
email: aie@angelyeast.com
Related tags:
---
---