FIC2019 Annzyme booster protein processing
March 29, 2019
By Lily
On March 20, 2019, the 23rd China International Food Additives and Ingredients Exhibition (FIC2019) rang down the curtain. As one of the most influential food ingredients industry exhibitions in the world, FIC 2019 attracted 1568 exhibitors and tens of thousands of spectators from all over the world.
With its multi-business unit, Angel has demonstrated the new value of the concept of "natural, nutritious, healthy and delicious" for the global food industry in these three days.
In this exhibition, Angel Special Enzyme Division took " Enzymes give food delicious" as the theme, brought enzyme solutions in the fields of peptide preparation, baking, nucleic acid processing, starch processing and other food fields, and focused on recommendation of the enzymes for peptide preparation.
Peptides have become the focus of competition in food industry, health products industry, daily chemical industry and pharmaceutical industry for their unique application effect by increasing favor of more and more consumers, and Enzymatic hydrolysis is a key technology in the peptides preparation. In the afternoon of March 18, a meeting about Angel New Products and Technologies Exchange hold in Conference Room, the Director of the Institute of Special Enzyme Preparations shared the technology of "Enzyme Helps Protein Processing", and showed the application effect of Annzyme®enzymatic solutions in the preparation of Peptides (Plant Peptides, Animal Peptides, Collagen Peptides). The audience was full of interest to participate in the interaction.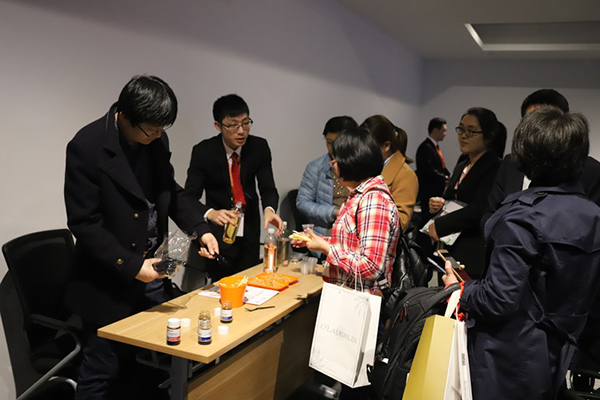 About AnnzymeTM:
Annzyme is a new brand for Angel enzymes products. We are dedicated to providing customers with perfect solutions in many fields like baking, proteolysis, nucleic acid hydrolysis, starch further-processing etc, and already built highly automated production lines for enzymes and other biological products. We are committed to become the best enzymes supplier and service provider.
About Angel :
Angel Yeast Company is a high-tech listed company specializing in yeast and biotech. Product business covers Yeast and Baking, Yeast Extract-Savoury, Nutrition & Health and Biotechnology fields. It is one of the world's leading companies in the yeast industry. Angel has 12 holding subsidiaries and provides products and services for more than 150 countries and regions.
Press contact:
ANGEL YEAST CO.,LTD
Address: 168 Chengdong Avenue, Yichang, Hubei 443003, P. R.China
Tel: +86-717-6369520, 6369558
Fax: +86-717-6370680
email: aie@angelyeast.com
Related tags:
---
---