Angel Yeast beta-glucan won the Golden Patent Award
August 8th, 2019

By Posh Zhang
In December 2018, the patent Method for preparing glucan and mannan, glucan preparation and mannan preparation produced thereby and use thereof (ZL200810105516.7) won the Golden Patent Award in China. The patent was applied by Angel Yeast Co., Ltd. in 2008 and authorized in China, US and EU continuously.
With the beta-1,3/1,6-glucan structure, yeast beta-glucan, which exists in the inner side of yeast cell wall, is a functional polysaccharide with several scientific-proven functions such as immune-enhancing, anti-URI (upper respiratory infection), anti-tumor etc. Due to the special structure, yeast beta-glucan can be recognized by immune cells. Taken orally, yeast beta-glucan can pass through the stomach and is uptaken and recognized by innate immune organs macrophage through the peyer's patch which are special regions on small intestine. After nearly a century of research and already approved as GRAS or novel food ingredient in US, China and EU, yeast beta-glucan has been proven safe and effective worldwide. It can be used as functional ingredients in many kinds of foods, such as baked foods, dairy, beverage, confectionery, supplements and sports nutrition, etc.
"Besides this patent, many our application patents in food supplements, skin-care are also authorized and we have carried out several clinical tests in these fields expecting to find more mechanisms on the functions of yeast beta-glucan," the CTO of Angel Yeast Human Health Division, Dr. Yan Zhang said, who is also the major inventor of the patent. Supported by Angel Nutrition Scientific Research Foundation 2017, Angel is conducting a human clinical study named "The Effect of Insoluble Yeast Beta-glucan Intake on Pre-diabetic Patients: A Randomized Double-blind Trial", aiming to study the effect of yeast beta-glucan on immune system of prediabetic patients.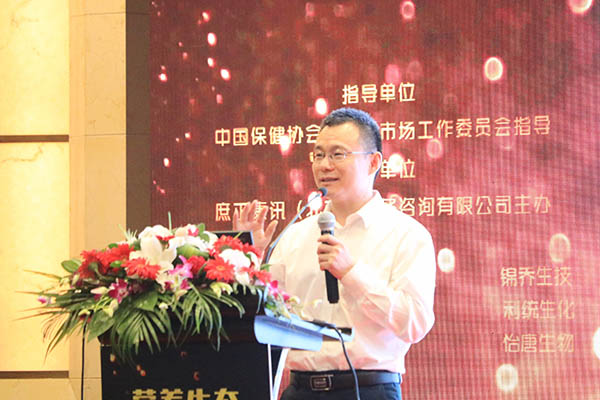 Dr. Yan Zhang gave the speech about yeast beta-glucan application
As the largest supplier of yeast extract in the world, Angel Yeast has more than 20 years history of R&D and production of high-quality yeast beta-glucan, which can meet the USP & FCC standard. "With all the advantages and strength of Angel, we will occupy at least one third of the global market share of yeast beta-glucan by the end of 2021," Overseas Business Director of Angel Human Health Division, Mr. Jimmy Fu highlighted.
"Yeast beta-glucan has proven to be a multi-purpose ingredient, capable of fortifying and supporting the immune system. Therefore, it can be predicted that there will be an explosive growth of yeast beta-glucan in the consumer market, including a continued increase in sport nutrition applications, for those who want to perform with a healthy and robust immune system," the strategic partner of Angel yeast in Europe, also the Founder of Van Wankum Ingredients, Mr. Ed Van Wankum said.
Besides yeast beta-glucan, Angel is also one of main global suppliers of series products of functional yeast ingredeints for human health solutions, with the brand name of NutrYstTM, such as Saccharomyces Boulardii, Selenium-enriched Yeast, Nutritional Yeast Flakes, Yeast Protein AnProTM, Yeast Peptides AnPepTM, Zinc-enriched Yeast, Chromium-enriched Yeast, Glutothione-enriched yeast, etc. For more details information about Angel NutrYstTM functional yeast ingredients, please visit Angel's website here.
yeast beta-glucan http://en.angelyeast.com/products/human-health/yeast-beta-glucan.html
Angel's website here http://en.angelyeast.com/products/human-health.html
Notes: the underline part will be linked to Angel official website.
---
---