Angel Nutritech Yeast Probiotics Powder won the NutraIngredients-Asia Awards 2019
September 25th, 2019
By Alex Liu
The Winners of the 2019 NutraIngredients-Asia Awards has been announced at Marina Bay Sands, Singapore on Tuesday 24th September 2019. These are the best and brightest in ingredients, finished products, companies, people, and initiative in the nutrition and dietary supplements industry. Angel Nutritech® Yeast Probiotics Powder is honored to win the NutraIngredients-Asia Awards 2019 on "Probiotics Product of the Year".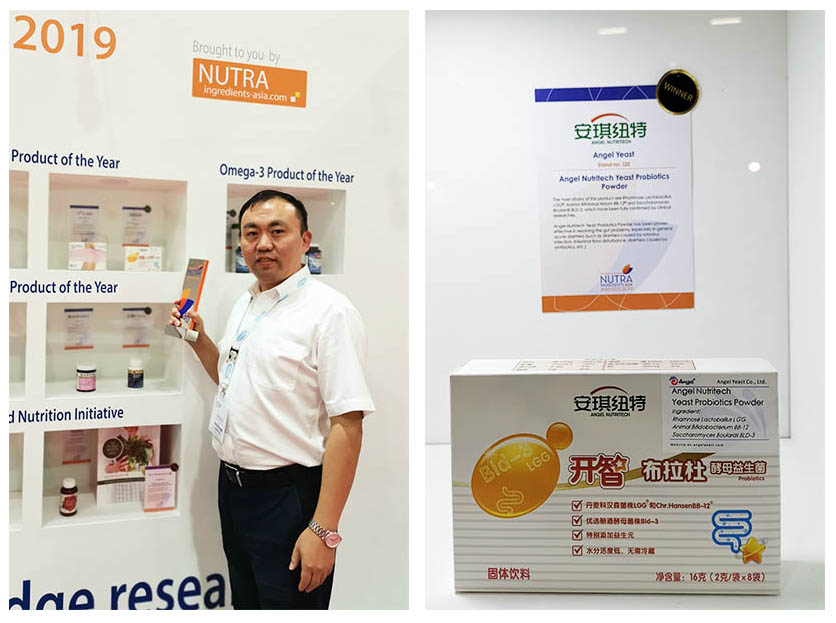 The main strains of this product are Rhamnose Lactobacillus LGG®, Animal Bifidobacterium BB-12® and Saccharomyces Boulardii BLD-3®, which have been fully confirmed by clinical research. NutraIngredients-Asia Editor-in-Chief Gary Scattergood said: "This was a highly competitive category and Angel Yeast's victory is a testament to the company's range of products spanning all life stages. It is a very worthy winner of our Probiotic Product of the Year award.".
Angel Nutritech® Yeast Probiotics Powder has proven effective in resolving the gut problems, especially in general acute diarrhea (such as diarrhea caused by rotavirus infection, intestinal flora disturbance, diarrhea caused by antibiotics, etc.).
About Angel Human Health:
Yeast is the ideal source of human nutrition. Angel created healthy products that are suitable for pregnant women, infants, children and the middle-aged. Angel developed a series of food and skincare raw materials, the source of which is yeast, and enhanced product value for many well-known brands. Angel-Nutritech is one of the leading brands on R&D and manufacturing of yeast functional ingredients & supplements for human health & nutrition industries.
About Angel:
Angel Yeast Company is a high-tech listed company specializing in yeast and biotech. Product business covers Yeast and Baking, Yeast Extract-Savoury, Nutrition & Health and Biotechnology fields. It is one of the world's leading companies in the yeast industry. Angel has 12 holding subsidiaries and provides products and services for more than 150 countries and regions.
Press contact:
ANGEL YEAST CO., LTD
Address: 168 Chengdong Avenue, Yichang, Hubei 443003, P. R.China
Tel: +86 717 6369570
Email: Nutritech@angelyeast.com
---
---