Angel Nutritech's Health Food Made a Bright Appearance in PHARMCHINA
April 14th
By Clara Jiang
On April 11th~13rd, the 79th PHARMCHINA was successfully held in National Exhibition and Convention Center (shanghai). Angel Nutritech brought an amazing appearance by showcasing the latest achievements at the expo.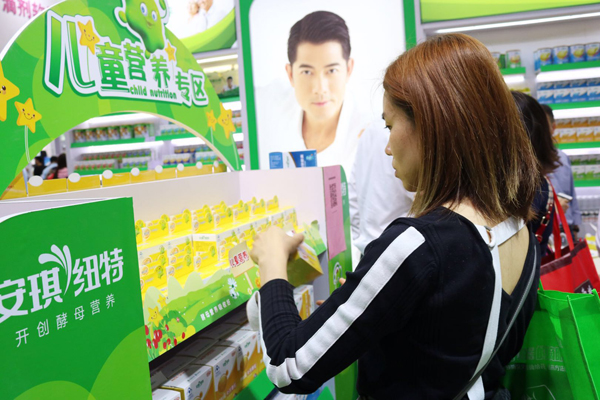 At this exhibition, Angel Nutritech's health food area for pregnancy, infant and children continued to be a bright spot, attracting lots of agents and chain store customers to come to discuss cooperation mode. With years of brand promotion, Angel Nutritech has been quickly developed into the " No.1 Brand for Pregnancy, Infant, Children Nutrition in China," and the influence and awareness of products in this category has been significantly improved. Besides, the new package design with yeast symbol displayed at the expo has been highly spoken of by visitors. After experiencing products and having a full knowledge of service, many customers have confidence to cooperate with Angel Nutritech.
The marketing model with special products suitable for pregnancy, infants and children, professional training and systematic sales solution, created by Angel Nutritech originally has been proved to be feasible and helped to achieve 50% growth for many years. In Angel Nutritech booth, more and more customers are willing to talk and learn systematic sales service and cooperation mode instead of the product itself. In the future, Angel Nutritech will continue to improve products quality and provide more professional services for customers.
About Angel Human Health:
Yeast is the ideal source of human nutrition. Angel created the healthy products that are really suitable for pregnant women, infants, children and the middle-aged. Angel developed a series of food and skincare raw materials, the source of which is yeast, and enhanced product value for many well-known brands.
About Angel:
Angel Yeast Company is a high-tech listed company specializing in yeast and biotech. Product business covers Yeast and Baking, Yeast Extract-Savoury, Nutrition & Health and Biotechnology fields. It is one of the world's leading companies in the yeast industry. Angel has 12 holding subsidiaries and provides products and services for more than 150 countries and regions.
Press contact:
ANGEL YEAST CO.,LTD
Address: 168 Chengdong Avenue, Yichang, Hubei 443003, P. R.China
Tel: +86 717 6369570
Email: Nutritech@angelyeast.com
---
---