Angel Yeast beta-glucan meets USP & FCC standard
April 30, 2019
By Jason Dong
Recently, Angel Yeast has produced high-quality yeast beta-glucan, which can meet USP & FCC standard. As the largest supplier of yeast extract in the world, this shows Angel's capacity of scientific research.
The mission of USP is to improve global health through public standards and related programs that help ensure the quality, safety, and benefit of medicines and foods.
Food Chemicals Codex (FCC) standard can be used to characterize ingredients used in food. Monographs in the FCC consist of tests and specifications for identification, assay and impurities, as well as other tests that help describe the purity and quality of the ingredient.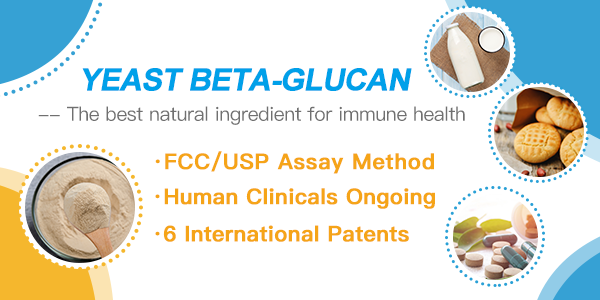 Conformed USP & FCC standard, Angel Yeast Beta-glucan has stronger market competitiveness, which is ahead of most companies in China.
On the exhibition of 2019 Vitafoods Europe on May, Angle will appear with new yeast beta glucan and will attract most visitors and customer's attention.
About Angel Human Health:
Yeast is the ideal source of human nutrition. Angel created healthy products that are suitable for pregnant women, infants, children and the middle-aged. Angel developed a series of food and skincare raw materials, the source of which is yeast, and enhanced product value for many well-known brands. Angel-Nutritech is one of the leading brands on R&D and manufacturing of yeast functional ingredients & supplements for human health & nutrition industries.
About Angel:
Angel Yeast Company is a high-tech listed company specializing in yeast and biotech. Product business covers Yeast and Baking, Yeast Extract-Savoury, Nutrition & Health and Biotechnology fields. It is one of the world's leading companies in the yeast industry. Angel has 12 holding subsidiaries and provides products and services for more than 150 countries and regions.
Press contact:
ANGEL YEAST CO., LTD
Address: 168 Chengdong Avenue, Yichang, Hubei 443003, P. R.China
Tel: +86 717 6369570
Email: Nutritech@angelyeast.com
---
---