Angel Yeast created a new journey of global fermentation nutrients
February 21, 2019
By Yin Qiang
Fermentation Nutrients, a collective term for nutrients used in microbial fermentation and cell culture.
In a narrow sense, fermented nutrients are a class of nutrients developed according to the nutritional needs of organisms during fermentation. Such nutrients can enhance the vitality of various organisms (including but not limited to microorganisms, cells and viruses), promote metabolic levels, and thereby maximize the yield of desired products. For example, carbon sources, nitrogen sources, inorganic salts, trace elements, and growth factors required for auxotrophic organisms are typical fermentation nutrients. Fermentation nutrients are mainly used in the bio-fermentation process to synthesize new cellular materials and metabolites as well as provide the energy needed for cell life activities.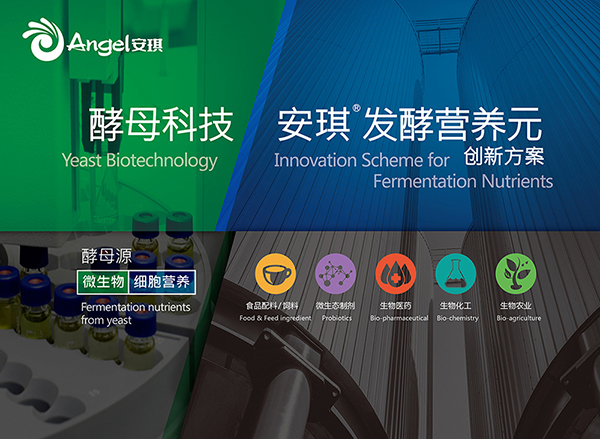 In a broad sense, fermentation nutrients also refer to the refinement, optimization and integration of various fermentation nutrients through the universality and specificity analysis of the metabolic characteristics and nutrient requirements of different types of organisms, then providing fermentation nutrients and personalized application solutions specifically to enhance the growth and productivity of living organisms.
Angel Fermentation Nutrients, with the refined organic nitrogen source--the yeast extract series as the core, has developed a variety of innovative products such as anima, vegetable and microbial origin peptone, inactive yeast for antibiotics fermentation, culture media for vaccine fermentation, cell nutrition factor, culture media for vinegar, yeast extract for yogurt, etc. according to the specific requirements in bio-industry and effectively support the vigorous development of global bio-industry.
Since the establishment of the fermentation nutrients business in 2009, Angel Yeast has sold more than 200,000 tons of fermentation nutrients such as yeast extract, yeast peptone and inactive yeast. The users are distributed in more than 120 countries and regions around the world, involving biological food ingredients. Biological biotechnology fields such as biological feeds, biopharmaceuticals, micro-ecological preparations, bio-chemicals, and bio-agriculture.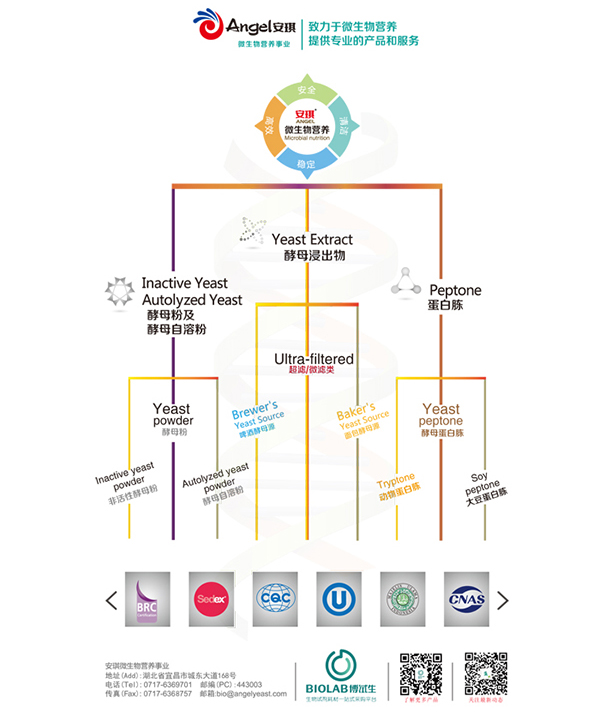 Angel Yeast took the lead in setting up a fermentation nutrient research institute in biotechnology industry, and established good R&D cooperation relationships with many scientific research institutions and universities around the world, and made fruitful contributions to the healthy development of the fermentation nutrients industry and the entire bio-industry.
Angel Yeast initiated and continuously hosted seminars 5 times on the application and development trend of new organic nitrogen sources, and was praised by foreign counterparts as the "the founder of the new fermentation nutrients market".
Angel Yeast successfully hosted the China Microbiology Annual Meeting and the China Bioengineering Annual Meeting. The scale of the conference reach a new high in the annual meeting and established a good brand image in the field of biological research.
Angel Yeast founded a E-commerce Platform with the name "Biolab", which has provided one-stop procurement services for reagent consumables and equipments for more than 2,000 companies and research institutes.
Angel Yeast also initiated and successively hosted two Chinese microbial culture dish art competitions, which further stimulated the infinite creativity and passion of bio-scientific researchers, and also inspired more outstanding talents to join the bio-industry.
In the future, Angel Yeast will develop and innovate, and continue to research and develop fermentation nutrient products, continuously expand the application fields, and continuously improve the technical service level to provide more perfect solutions for global bio-fermentation users.
About Angel Microbial Nutrition
Angel YE, rich in protein, amino acids, peptides, nucleotides, B vitamins and trace elements. With the advantages of having no allergic source and being non-transgenic, high efficiency and stable quality, Angel YE are widely applied in the biological laboratories and industrial-scale fermentation, promoting the product safety and technical progress in the global fermentation industry.
Angel Yeast Company is a high-tech listed company specializing in yeast and biotech. Product business covers Yeast and Baking, Yeast Extract-Savoury, Nutrition & Health and Biotechnology fields. It is one of the world's leading companies in the yeast industry. Angel has 12 holding subsidiaries and provides products and services for more than 150 countries and regions.
Press contact:
ANGEL YEAST CO., LTD
Address: 168 Chengdong Avenue, Yichang, Hubei 443003, P. R.China
Tel: +86-717-6369520, 6369558
Fax: +86-717-6370680
email: aie@angelyeast.com
Related tags:
fermentation-nutrients
---
---