The exclusive culture media products and solutions of Angel
May 24, 2019

By Yinqiang
From May 22nd to 24th, the 14th International Symposium on Probiotics and Health was held at the Sanli Kaiyuan Mingdu Hotel in Hangzhou, China. Angel Yeast Co., Ltd. was invited to attend the conference.
On behalf of Angel Yeast, Wu Yexu, Technical Director of Microbial Nutrition Division, gave a report on "High-density Fermentation of Lactic Acid Bacteria and Customized Design of Nitrogen Sources", which explained the importance of organic nitrogen sources in the fermentation of lactic acid bacteria and the rational selection and matching of organic nitrogen sources. For example, the application of a special yeast extract FM985 for lactic acid bacteria in a well-known product is shared to all attendees.
The report summarized by Wu Yexu received extensive attention from the participating experts and business representatives. Experts from the conference visited the booth of Angel Yeast to ask for samples.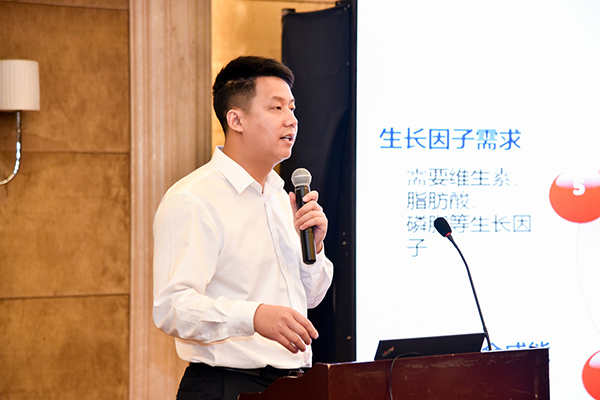 At this meeting, microbial nutrition division introduced the exclusive innovative products and application solutions such as yeast extract FM985, yeast peptone FP103, and yogurt fermentation partner YF300 to the probiotics industry.
Through this participation, Angel's brand influence in the field of probiotics was further enhanced, and the application of Angel related products and solutions in the probiotics industry was promoted.
About Angel Microbial Nutrition
Angel YE, rich in protein, amino acids, peptides, nucleotides, B vitamins and trace elements. With the advantages of having no allergic source and being non-transgenic, high efficiency and stable quality, Angel YE are widely applied in the biological laboratories and industrial-scale fermentation, promoting the product safety and technical progress in the global fermentation industry.
Angel Yeast Company is a high-tech listed company specializing in yeast and biotech. Product business covers Yeast and Baking, Yeast Extract-Savoury, Nutrition & Health and Biotechnology fields. It is one of the world's leading companies in the yeast industry. Angel has 12 holding subsidiaries and provides products and services for more than 150 countries and regions.
Press contact:
ANGEL YEAST CO., LTD
Address: 168 Chengdong Avenue, Yichang, Hubei 443003, P. R.China
Tel: +86-717-6369520, 6369558
Fax: +86-717-6370680
email: aie@angelyeast.com
---
---